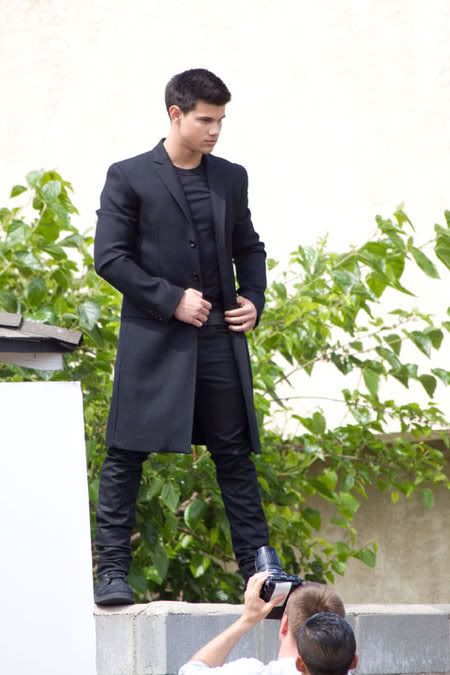 Source:
twilightfansite.net

I'd like to discuss Jacob's character WITHOUT getting all sidetracked by his ridiculously well-chiseled abs. *looks pointedly at Ginger*

Ahem...So, in the books, I pretty much detested Jacob. I never once felt sorry for him, or felt like he had been used. I cursed him repeatedly while reading and could not understand why anyone was Team Jacob, or how Bella could even think about kissing him.

But, Movie Jake? Whole different story. I adored him. He was funny and cute and endearing. I felt awful for him when he tried to turn Bella away after he became a wolf. I felt awful for him when she left (although I was a little mad about the phone call). And, my heart even broke when Bella said, "It's always been him." Truly - this character that I detested made my heart break.

But, don't worry - I'm not switching teams, I'm just amazed at how Taylor's portrayal of Jacob has so intensely changed my view of the character. I still kind of hate Book Jake, but Movie Jake... well, that's different.





What's wrong with ridiculously well-chiseled abs?










The first few times I read the books I loathed the dog. The last time I read it I began to see his point of view and sympathized with him though as it pertains to the two central teams (Edward and Jacob) I am decidedly for the vampire. In New Moon I saw Jacob come to life and I really liked him. If I were a teenager in Forks, Washington I would totally hang out with a guy like Jacob and he would be much more my type than the brooding Edward.






I never quite "got" Jacob the first few times I read the books. I think I disliked him on principle since Charlie seemed to be pushing Bella to him and because (honestly) he wasn't Edward. I have to admit that while most people hated him in Breaking Dawn, I actually welcomed his perspective as a break from Edward's overwhelming self-loathing. Now that I've seen how likable Movie Jacob is, I'm afraid I might actually **shudders** welcome Renesemee's appearance as his chance for a happy ending. *shaking fist in the air* Damn you for being so likable Taylor!!