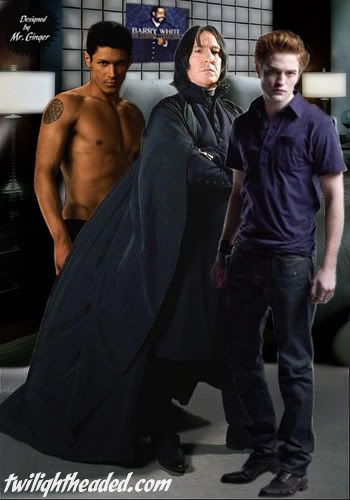 This week's Junior League Member is: Bella Black & White (better known as Patterson _Jo)
Superpowers: Able to make Ginger swoon with my Silver Tongue;
Gemini Twin so I CAN be Edwards Bella and Jacobs Bella. I would willingly come between them in a Tent over and over again.
Can swing from poetry to smut on a single line...should be vine but would like a line better.
I give good tent (see above)

I really CAN roll, I practice often.


My question is simple. Who is a better lover? Vampire, Werewolf or Wizard? Discuss amongst yourselves:

Seems one of our readers has a little girl-crush on you Ginger!!
I have a girl-crush on her too.









Great question. Hmmm... a vampire seems the obvious choice, but I'm not so sure about the cold, marble body. A werewolf might be too hot, and a wizard, well who knows? I guess I'm going to have to try one from each category to accurately answer this question. *snicker*
You know I've been re-thinking my position on this lately. I don't really want to uh... make love with a cold marble statue. And you guys know I don't like it doggy style. I'm saying wizard. Especially if it's that hunky Ronald Weasley. Just think of the little gingers we could have together when he works his spell on me again... and again... and again...
I'd have to go with Vampire - hands down (or behind my back, or running through his hair, hell hands down his pants)!
Werewolves are in the canine category so it's a whole lot of doggie style and they are finished in 5 seconds. He'd be done before I even knew we started. Now wizards are an incredibly lazy bunch who wave a wand or make a potion to handle the simplest of tasks. Can you REALLY see them exert the energy required to earn the title of Best Lover? Yeah, me either. Now vampires... they, by their very nature, exude lust, passion, desire... everything about them invites us in... and they can go all night without needing sleep. Case closed.