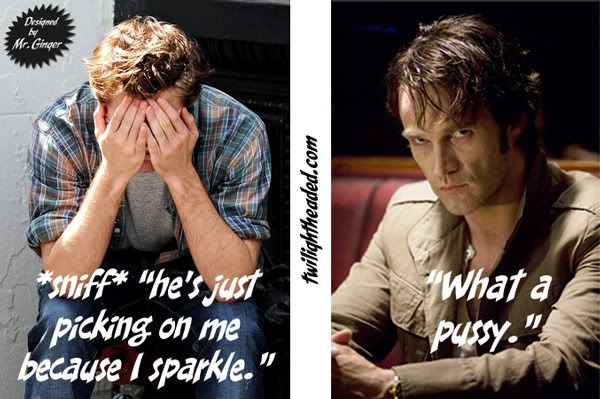 Stephen Moyer, who plays Bill Compton in True Blood had this to say about Robward: As for the competition, Twilight's toothsome Robert Pattinson, Moyer simply says: "

He's a pussy! He's the slim-Fast, Diet Coke of vampires

."



The League responds:
If by comparing Rob to Slim-Fast and Diet Coke he meant to imply that he tastes great and is less filling, I wholeheartedly agree.
"Oooooo Suhkie"
Hey, Ginger, that's my line!

I thought that was Bill's line. *wink*

Ginger Piss-ant.
If Stephen Moyer did say that then I sort of have to agree. Since watching the True Blood series (all in one day - last week) I immediatly said that True Blood and Bill Compton made Edward Cullen look like Mr. Sissy pants.
Now, don't shoot me but there is something very sexy about Mr. Compton. He's raw and gritty. Which is what drove many of the Twilight fans to fanfic. Had Stephanie Meyer written her series geared toward a slightly older age range then "fanficdom" wouldn't exist. I personally got full enjoyment/satisfaction (hehe) to actually see some vamps/humans seal the deal, hit a home run, do the nasty! But that's just me!
I know Edward Cullen. Edward Cullen is a fantasy of mine. And you, Mr. Compton, are NO Edward Cullen.
Spider, Edward is raw and gritty. Or at least he is in my dreams. Personally, I don't find anything sexy about Bill Compton. I have to admit I've only read the series and not watched, but he just annoys me most of the time.
Now, Eric Northman, on the other hand, apparently tastes great and is
more
than filling.
And he has 1,000 years of experience... Viking style.