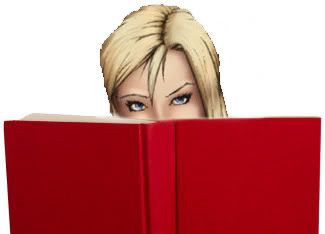 Okay, so by now we're all well-versed in the art of Rob-porn. There is plenty of decent smut out there, but when I started reading "The List" by Laura Cullen http://twilighted.net/viewstory.php?sid=2026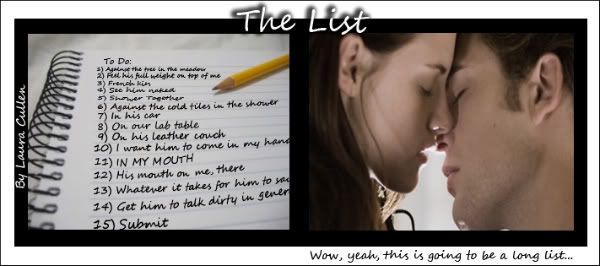 I was blown away. Not only is it smutty (and, oh, is it EVER) but the characterizations are spot-on, even when straying from Stephenie Meyer's plot slightly. Bella is strong and daring and innocent and confused. Edward is repressed and shocked and lustful and loving. In short, fabulous.So, in honor of "The List", I've made up a list of reasons why I love it:
1. Bella writes down her fantasies. I don't even do that. But I totally should.
2. Edward talks dirty. At least in his mind. I ♥ his mind.
3. Alice HELPS Bella seduce Edward. Total WIN.
4. Blue. Crotchless. Panties.
5. There are shower scenes. WETWARD. *swoon*
6. Laura uses "Closer" by NIN in interesting ways. Ways that are now starring in personal fantasies of mine.
7. Did I mention that Edward talks dirty? Mmmm...So, anyway, you guys discuss.

I'm gonna print out a copy and hit this one little lingerie store here in town before Mr. Meadow comes home. He won't know what hit him.

*panting* I need to go find Mr. Ginger. RIGHT. NOW. Quick, someone distract the Ginger Juniors.


*deep breaths* Thanks, Meadow (and Laura Cullen) for providing this incredible "manual." Sorry it took me so long to write my commentary but I've been busy acting out some of the scenes with Mr. Spank. Thankfully we have a wooded backyard with lots of trees to choose from. Now if you'll excuse me it's time for our shower. *shiver*
Oooh. Good idea. I think I need to get a hand-held showerhead. Heading to Home Depot now. *wink*
WOW! Meadow, you have totally earned the title "slut" in my book. ... and you know you're evil, right? I mean that in the best possible way.
Oh... Laura Cullen, you are my favorite person today. I can't seem to erase this little perma-grin from my face, and I'm only up to chapter four. Great work - I can't wait to um, "finish"...
Wow, Spider is stepping down and letting you take the top spot for League Slut, Meadow. We should get you a trophy or something.

How about we send her an anatomically correct ice sculpture?
*snicker* But do I still get the trophy?
Oh, and then the Adult Film RP look-alike can deliver the ice sculpture when it's done?


________________________________

When you're done with The List I strongly suggest checking out Laura Cullen's other story on Twilighted.net, While You Were Gone.
http://twilighted.net/viewstory.php?sid=1751
It's a really well-written take on the "What if Laurent DID bite Bella before the wolves arrived" concept, which is one of my favorite AU concepts to read. I like it for several reasons. First, there's no Renesmee. Second, I feel like this concept gives Edward a chance to man up and apologize for what he did to Bella by leaving, and lastly, I love it because the relationship that they form is then founded on equal footing. It's a great read, you should really give it a chance too. You know, for after your "The List" induced activities.