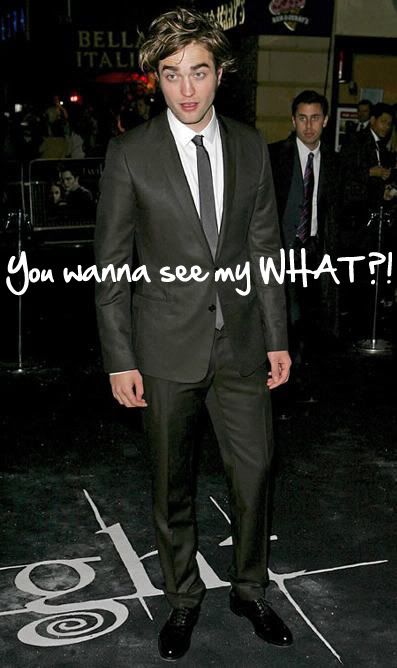 According to
this article on Examiner.com
there's a full frontal scene of Rob in Little Ashes. Is it too much to hope that it's not "the tuck"? Because I think I can ignore some guy-on-guy for that.
How much do you want to bet it's the tuck picture? If it's not, I'll have to wait until a screenshot of it hits the internet. I can't watch that movie, no way, no how. Like I said, if I have to watch my Robward doing it "doggy style" with another dude, I will be TRAUMATIZED for life! Meadow, if you see it, sneak a picture of it with your phone for me, k?

If so, I want to take that picture and blow it up to scale to get an accurate sizing - just to answer the age old question, "does the size of one's feet have any bearing on sizing 'elsewhere.'" I also will see the movie because I believe his todger performance in the film will be a must-see.

I'm looking forward to seeing the movie any way you slice it. I can squint or mentally block out the other dude if need be. I'm also very anxious to see my RP play in more sexual scenes since Twilight really doesn't get us the "up-close" filth we all seem to crave! And it sounds like this movie get's pretty down and dirty. It'll be fun to watch him in a more passionate role. Don't forget, I have a photographic memory, I plan to replace the other man with myself for day-dreaming purposes. Bring it on, I can take it!
Oh, and I plan to take photographs and replace the other dude with myself. And then print it out. And frame it. *looking around* What? Too far?
Not if you're asking me! And Meadow, you've seen my desk.

Not at all! Though, I kinda think I'd STILL be traumatized if I saw Mr. Sparklepants giving it to YOU "doggy style".


Oh, you just gave me a great idea. I mean, yeah, that's creepy. I'll see you guys later, gotta find Mr. Ginger and talk to him about something, cough.


*looking at the rest of the League* What do you think she'd have to do to get him to agree to THAT??? Wait... On second thought, I don't want to know...


One word: Strawberries...