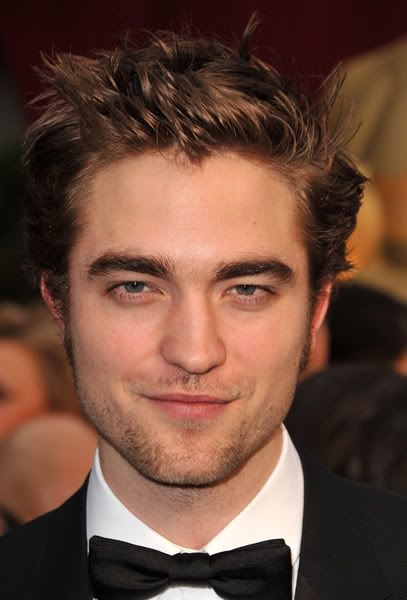 Would you agree that Rob's appearance at the Oscars went by faster than a vampire running? Nevertheless, it was the best 56 seconds of television. Viewership dropped by 40% when he left the stage. Seriously, the producers really should have just had a scroll on the bottom of the screen with the list of winners while Rob read Midnight Sun to us.
Did you see those bedroom eyes? He positively smoldered. I have no words. I think I might spontaneously combust. Must go find Mr. Meadow...








Seriously, Rob was so obviously nervous, or maybe he just spent too much time at the Academy bar beforehand. BTW, did any of you hear what he even said? I spent my limited time with Rob undressing him in my mind. He wears boxer briefs, in case you were wondering. Well, he WAS wearing them... Gotta run...







I heard something about becoming a vampire... I don't know. I was hypnotized. And can I just say that Rob should've snubbed Seacrest on the red carpet like Brangelina does, after what Seacrest said about Rob's personality. Or maybe that's just because Rob is the BETTER man and won't stoop to his level.







Mmm... I could imagine Rob stooping. Bending, growling, nibbling... Oh, Mr. Meadow just changed into his Old Navy peacoat, gotta go. ;)









I AM NOT HAPPY... I was expecting him to do a longer presentation like the ones before. I watched in great anticipation..............

Ok, I'm going outside (in the snow storm) to calm myself (cigarette) for a few minutes and gather my thoughts. Then I'll come back and comment!

I'm back. WTF was that! It was brief, he was stunning, he needs to go away. This is WHY I didn't want him at the friggin' Oscars!!! He should be in Canada - with piss ant! Hurumph! I feel jilted, like an ex-lover!






Quick, someone tie up Spider and force her to watch the Robalooza slideshow so she can calm down. Or force feed her some of those Twilight Sweethearts. Breathe, Spider, breathe.


Photo courtesy of Robert Pattinson Life