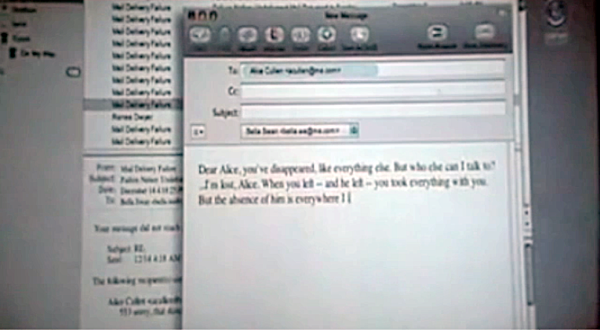 So, on
e of the things in the movie that I LIKED but feel the need to mock is the whole
"

Emails to Alice

" bit. While I think it was a nice narrative move to help us understand Bella's thoughts, it's so freakin' desperate and sad. Why didn't she just start a
LiveJournal like every other depressed teenager? Or, at the very least, why didn't she actually VENT instead of just saying "

Alice, I miss you. I miss Edward. I'm staring at kids walking outside my window and thinking about how sad I am

." Here are some emails I would have liked to have seen instead:



Dear Alice, today I made out with Mike Newton. Yup. That one. Tell your brother that tongue is the way to go. Bastard.


Dear Alice, I'm thinking of wearing stripes and polka dots. Together. In clashing colors. Just thought you should know.


Dear Alice, my new boyfriend Jacob is always walking around without a shirt. It's really hot. Much better than all that "sparkles-in-the-sun" bullshit.


Dear Alice, I'm considering going goth. I've dyed my hair, painted my nails black, and I found this really great website to order a coffin to sleep in at night. I giggle myself to sleep at the irony.


Dear Alice, since you can see the future, why didn't you see me getting that stupid papercut? Also, what did you wrap that box with? Aluminum foil with decorative razor-blade edges? Thanks for nothing.


Dear Alice, I just thought that you should know that I'm dropping out of school and becoming a groupie. I've decided to follow the band Phish around the country, smoking pot and sleeping with random sound check guys. How's THAT for a distraction?


Dear Alice, F*CK YOU.


Dear Alice, I'm taking Jacob to prom this year. I'll be wearing a hoodie and converse and telling everyone you gave me the outfit. Everyone but Jacob. I'm telling him you sent me the thong. Bwahahaha.


Dear Alice, I'm writing a book about the love that your brother and I shared before he threw it away. I'm calling it "Twilight." The subtitle is "Vampires Have Tiny Dicks." I've already got a publisher. Tell Edward he can have a signed copy.