Since I'm having trouble containing myself in anticipation of Thursday night (!!!!!!) I thought that, instead of camping out at the theater (which would probably just get me arrested), it would be good to channel that energy into something for everyone. The result is the Sexy Men of New Moon. I can't take credit alone for this - all the girls helped pick the shots and Spank picked out her favorite sexy song. The only downside is now I am even MORE excited for Thursday!

You did an amazing job, Rain! I've always thought "If" was a hot song. Now it's like, nuclear, it's so freakin' hot.

*pauses at 0.20 mark and sings* "How many nights I've laid in bed excited over you, I've closed my eyes and thought of us, a hundred different ways. I've gotten there so many times"
Rain!!! *hugging you tightly* You slipped in a prezzie for me!!! You love me! You
REALLY love me!!!

What do you mean? I thought Nathan Fillion was in New Moon! *wink*

*grumbles and rolls my eyes* I only counted SIX pictures of Jasper. You know, if it wasn't for his shaky control around the scent of human blood there would BE no New Moon.
Oh, well, I happen to think Nathan Fillion qualifies for being in the New Moon montage. Because when I think of moons, I think of this...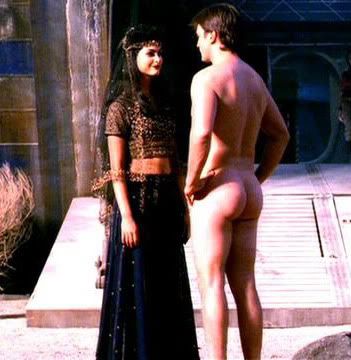 *scrubs the vision of Nathan Fillon's ass away by pausing at the 3.32 mark and singing* "If I was your girl oh the things I'll do to you. I'd make you call out my name, I'd ask who it belongs to."

I finally understand why you're so Nathan obsessed! C'mon girls, can you blame her? I certainly appreciate his Golden Globes. *wink*
Thank you, Meadow. I mean look at that perfectly shaped heiny. If I was with him I'd install a mirror on the ceiling. What?

Ginger, I thought you already HAD a mirror on the ceiling.