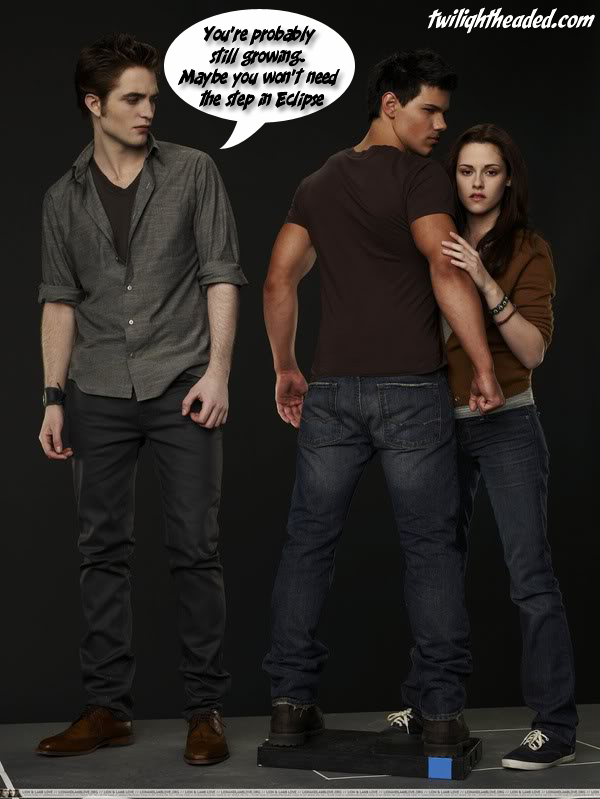 Superhero Name: Goddess of Grammar
Superpower: Ability to convert writers to the Oxford Comma, one sentence at a time.


November 20, 2009. The date I've been counting down to for 339 days. Conflicting emotions are raging through me as the date finally approaches: Will I be able to stop sobbing when Edward leaves me Bella? Will the wolf pack's 8 packs turn me into the cougar I've been trying to deny? Will Dakota Fanning give me nightmares for the rest of my life? And which of my favorite scenes will KStewpid eff up?



One of my favorite interactions in the book is when Edward explains to Bella what his life was like without her. If when RPattz says that his "life was like a moonless night," KStew responds by biting her bottom lip (which will undoubtedly be the hundredth time she's bitten it in a five-minute period), I cannot be held accountable for my actions, which may or may not include running toward the screen with a pair of scissors and then going home to comfort myself with The Vamp hidden behind the ice cream.


So which scene from New Moon is sacred in your mind that you're terrified the movie might desecrate?

I have always said that the key scene for me that they better not screw up is The Vote. Who among us doesn't want to see that all play out? I cannot wait for Edward to bellow at Bella, "No! No! NO! Are you insane? Have you utterly lost your mind?" The whole scene is a chess match ripe with fierce determination, gripping tension and even a little bit of emotional chaos. Oh, and the dog-hater in me also wants to see Edward say to Jacob, "I'm here until she orders me away" and Bella following that up with "Never!" Eat that,

dog

.

I really want to see Carlisle's philosophical side as he's stitching Bella up after the party. I think it not only underscores his role as the paternal force guiding their family, but it tells us why Edward feels so strongly. Hearing him say that he believes there is a God and that they retain their souls gives us (the viewers and Bella) license to imagine a "happily ever after." Which makes it all the more terrible when Edward leaves.

Oh that's right, Edward breaks Bella's heart. I guess it could be said that Edward is
heartless
.

I'd like to add spineless and brainless to that list. But now we're starting to sound like the Wizard of Oz...
I really want to see the part where Laurent almost kills Bella. Because then I can close my eyes and pretend the wolves never arrive, that he's successful in his quest and I'm there to comfort Jacob afterwards. *takes sip of the kool-aid*




Since I regularly skip New Moon, this is a hard question to answer... I can say what I don't want - and that is how incredibly LOOOOONG it takes Book Bella to figure out that Jake is a wolf. I'm hoping, based on the previews, that Movie Bella either figures it out quickly or just sees it happen and doesn't take FOREVER to understand what is glaringly obvious.

Yeah and I better they leave out the six pages worth of Bella thinking that she is dreaming when she sees Edward in her room after they get back from Italy. *rolls my eyes*

*glaring at Spank* I liked that part! *looking out at readers* So what part are you praying they won't mess up? What are you hoping they do? Tell us!