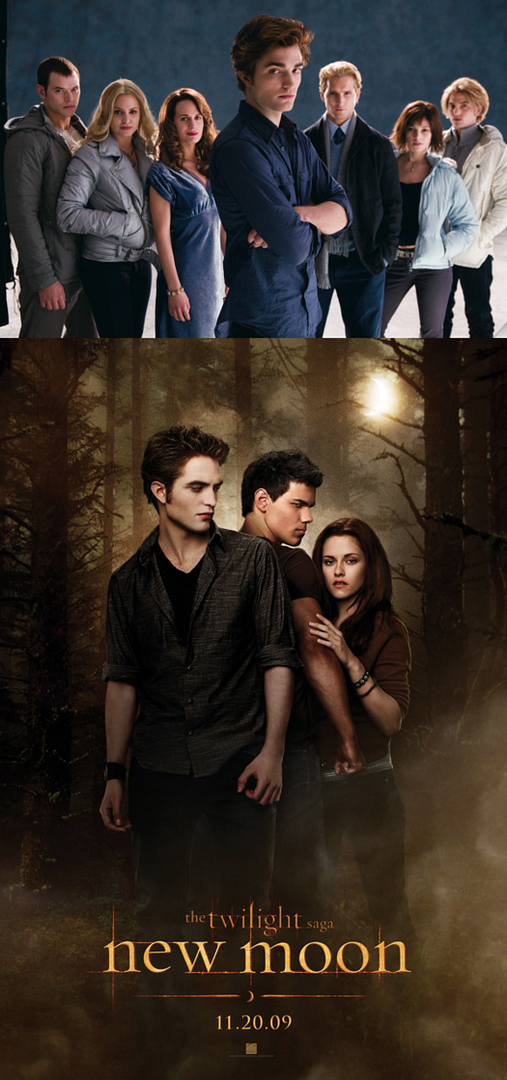 This week's Junior League Member is:
TwilJediKnight



Superpower: Luring ordinary women into Twilight obsessions through the use of gratuitous pictures of Rob Pattinson as Edward Cullen.
Do you think it was a conscious decision on the part of Chris Weitz to incorporate some cheesy, campy fun into New Moon to keep the continuity with Twilight? Because Chris Weitz just doesn't seem the type to do cheesy, campy fun on his own free will. He is like, a real director or something.



Which leads me to my second question: Didn't you feel, overall, that the actors felt better directed in this one? That they had real direction to work and seemed much better this time around with as opposed to Twilight where it was every man for themselves? Not hating on Catherine Hardwicke. But she is pretty laid back, one of the kids, do what ever as long as it has a blue aura. And I think that shows in both the overall mood and style of Twilight and the actors themselves.
I love cheese. Cheese makes everything better. Ok maybe not chocolate cake, but I digress. As far as the direction, I think Peter Facinelli said it best when he compared both movies, saying Twilight was done like an Independent Film, while New Moon was done like a box office hit. Plus Catherine Hardwicke has a case of severe ADD. Drove Mr. G nuts when he was working with her.

I personally loved the cheese bits, and since I now believe that Chris Weitz is a demi-god, I'm going to say he kept them in for continuity. And to give us something to talk about until June 30th, 2010.
But I definitely feel the actor's performances were partly a result of better direction. They all seemed so much more comfortable in their roles - but that could be a result of them being more comfortable with each other? So maybe it is a combination of both.

Twilight was camp, especially when compared to New Moon. I think direction had a lot to do with it. I also think the actors are more comfortable with their characters. However, we have plenty of funnies to keep me going. I am already working "what a marshmallow" into daily conversation and who among us isn't going to think of flying pizza the next time we're at the mechanics?
Or how about Jessica Stanley's "

My cousin had leprosy and it wasn't funny at all

." Still trying to figure out how to work that one into conversations.

Well, seeing as how I JUST SAW NEW MOON and am still high on Cherry Coke and Edward, I have lots of thoughts about all of this. (Hey, Jr Leager, you asked. You have no one to blame for my outburst by yourself.) I'd like to make the following disclaimer: I adored New Moon. Seriously. It was wonderful. It was pretty, and sad, and hopeful, and suspenseful, and it had Edward in it. Are we good? 'K. Because you only TRULY mock the ones you love... *wink*


I'm with Rain. I think that the campiness was a purposeful inclusion on Weitz's part because I've decided that he can do no wrong. Except for allowing a blind wig-maker free reign on the set. But even that I'm going to forgive. What other POSSIBLE explanation is there for Alice's "Bella is a vampire" vision? It HAD to be camp. Unless she was envisioning 5,000 years in the future, during which time the machines had risen, been destroyed, and mankind reset itself without technology. In that case the fact that their clothes looked like they were hand-sewn prior to the industrial revolution would've been a statement about our reliance on technology. But without technology we wouldn't have movies and he wouldn't have a job. So, like I said: camp.


As for the humor, I LOVED the humor in this movie. I mean, Eric crying at Romeo and Juliet? Priceless. Virgin Airlines? Even more priceless. Although, sad. I mean, come on. They can give Jasper a wig that makes him look like he's been playing with forks near an electrical socket but they can't alter the script a teensy-weensy bit and have Bella hook up with Jacob for revenge-sex? Pfft.

*sets out on foot to find the wig-maker for New Moon to personally annihilate her for my having to defend the dishonor of Jasper's hair*