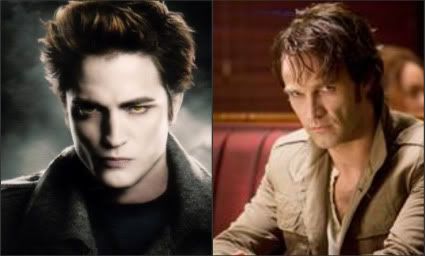 This week's Junior League Member is: Loire
Superpower: Ability to control, generate or absorb water
Has anyone watched and/or read the True Blood series? Although it is to me that the worlds most handsome is Edward Cullen, I think Bill Compton is a big competition for Edward. Edward is a sweet, passionate hunk of love, but he lacks the big bad boy style that Bill has. And us girls like a bit of a bad boy, right?
What do you think, Bill or Edward?
Um, have you read book four yet? #teameric
I say Quinn. Ok ok... that wasn't one of the choices. Eric then. Dang it, that wasn't one of the choices either. I guess if I have to choose, I'd choose Edward. Bill doesn't do it for me at all.
Oh you mean we had to stay on topic? Dammit. Okay, fine then I choose Jasper. I mean, Jace, I mean... Wait? What were my choices again?

Oh, Team Edward all the way. I have to say that even in Book One of the Sookie series I wasn't Team Bill. I mean, I thought it was fine that they were gettin' it on and all, but I'd read Twilight first and Bill wasn't quite up to Edward standards. Now, Eric, on the other hand... *wicked grin*
*thinking of Eric in the shower*

Edward. Definitely Edward. Bill bugs me. He just seems so.... blah. And I prefer my vampires to sparkle and not burst into flames in the sunlight.

Hmmm... Maybe we should play Vampire F*ck, Marry, Kill. I'll go first: Eric, Edward, Bill. That was too easy.

Way. Too. Easy.

I can't play. I love Jasper too much so he would have to be both my Vampire F*ck and Marry, and I'd like to think that I kill him (again and again) with the first option on this list.
Spike, Spike, Angel

Seriously guys, you can't use the same one twice! Here, I'll do it for you. Spank, yours is "Pam, Jasper, Bill." Ginger, yours is "Angelus, Spike, James." Rain? Hmm... How about "Eric, Emmett, Bill." Hm. Poor Bill. He seems to get the pointy end of the stake.
Can I trade in my Angelus for an Eric? Because if that's my list, I'll be a virgin when I get married.

What, you don't think Angelus was hot? I guess I have a thing for baaaad vamps. Fine. *hands you an Eric*
No. And thank you. *takes Eric*

*raises hand* If I can't have Jasper for all three can I trade in my Pam for an Eric?

Girls, I'm running out of Eric. *giggling* Whatever, we all know there's more than enough of him to go around. Here you go. *winks*