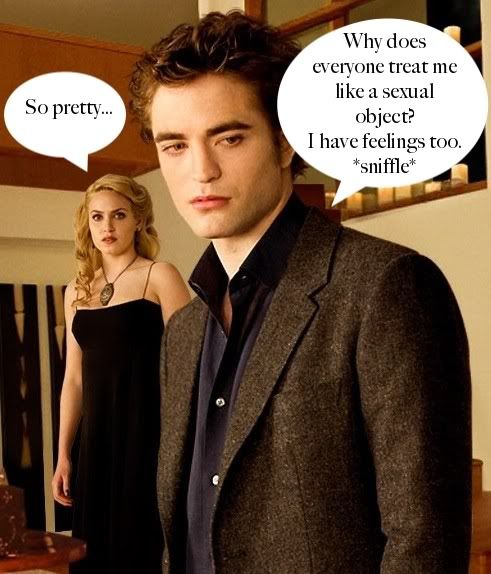 What is it about the guys of Twilight that has us all acting like cat-calling men on construction sites, saying the most obscene things about them as if they were nothing but pieces of meat -- tasty, juicy hot off the grill meat?
Hmm... The men of Twilight in construction outfits. All sweaty and hot and whistling at us as we walk past. I like where this is going. Oh, wait... We're the construction workers? *shrugs* That works.


I'm actually really enjoying embracing my inner construction worker. It's quite freeing. The only problem is when it extends into real life. Like when I see a hottie who bears a slight resemblance to Rob Pattinson at a restaurant and suddenly I'm imagining sitting in his lap, feeding him dinner, licking his lips for him... What? Like it hasn't happened to you!
Actually, it hasn't. Where are you eating at and can I come along? (I'm not above settling for a little fun with a look-a-like.)
I don't know what you're talking about. I have only the highest respect for Jacob and his muscles, especially the one in his pants. Oh hell... I'm doing it too. *hangs head in shame*
Wait, wait! No shame! Why is it that we should feel bad for objectifying incredibly attractive people who get paid to appear on screen for us? Men have been doing it for years, centuries even! It's about damn time we admit that we are sexual beings too! Now, tell me the truth... Can you see up my skirt while I'm on this soapbox?
*looking up and nodding yes*
But seriously, you both realize that Jacob's, um, muscle isn't even fully formed yet. I mean, ladies, he's not even of age yet! I'm sure his muscle still hasn't reached it's full growth potential.
*rolling my eyes at Spank* It looked fully formed to me.
*counting out bail money*