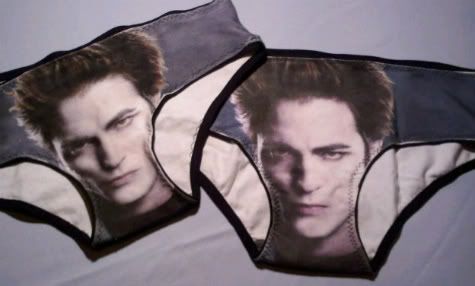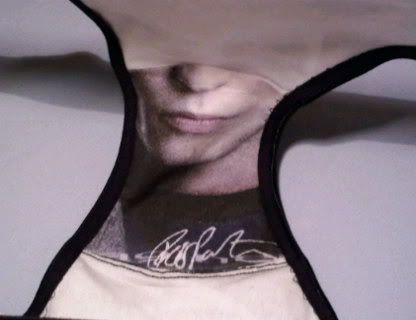 Sources:
Spunk-Ransom
and
Twitarted
Okay, so I saw this on Twitter the other day and had to share. Half of me is all
"OMG

that's hysterical!"

and the other half of me is all

"I am too old to be saying 'OMG.' And also, Edward's mouth on my crotch is kinda creepy."

Guess which half is winning? *wicked grin*
At least they could have chosen a picture of him with his mouth open.

What?!
Do they come with absorbent lining to draw the moisture away quickly?
Some girls and I on Twitter are thinking of opening a Cafe Press store with this concept. There will be tongue represented. Who's in? *grin*
Well if Edward is on my crotch with his tongue represented doesn't that mean he's in #wearingunderpantsinsideout
Um, no. You have to buy that part separately from an adult specialty store.
*shrugs and goes back to bed with Jasper and the Vamp*
Does this come with a matching bra? Like Edward's hands as the cups?