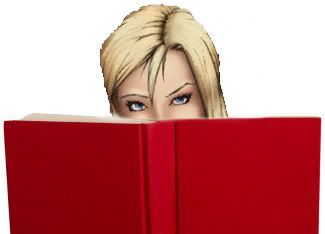 Hello Ladies! I'm so glad to be back and sharing fabulous fanfiction with everyone. I've recently been introduced to an amazing new fic called "Elemental" by TallulahBelle. If you follow me on Twitter you've probably seen me tweet about it.
If not, why aren't you
following me on Twitter
? Is it because I left? You forgave Edward when he came back, why not me? It's because I don't sparkle, isn't it? I knew it! Damnit...
Anyway, back to Elemental, here's what you need to know:
Bella is abruptly moved by her parents (Charlie and Renee) back to Forks, where she discovers that she has inherited special "powers." She is thrust into a world she doesn't understand but must learn quickly. What is the great danger that fueled her return? Why did TallulahBelle give Lauren special powers also instead of giving her leprosy? Or the clap? Why is Renee so unhappy? Why is this Edward such a standoffish dick? (He totally is, don't deny it.)
What I love about this is that this Bella is strong and special in her own way. None of this "Oh, woe is me, who likes brown eyes and brown hair??" crap. I also love that it's so supernatural. It reminds me of why I LOVE books like Twilight in the first place. And TallulahBelle does an excellent job at sucking you in right away. Trust me, once you start reading you'll be
hounding
politely asking her for updates on a daily basis.
http://www.fanfiction.net/s/5241793/1/Elemental
Now, it was pointed out to me that the minute I "un-retire" we bring out a post about a sparkly penis substitute. Now, my interests involve MUCH more than smut, but I aim to please, so while you're waiting for Elemental to update you should ALSO check out "Never Think" by il_suo_cantante.
http://twilighted.net/viewstory.php?sid=7566
But be sure you have your significant other around when you do. (Or, at least, your own "Vamp.") *wink*