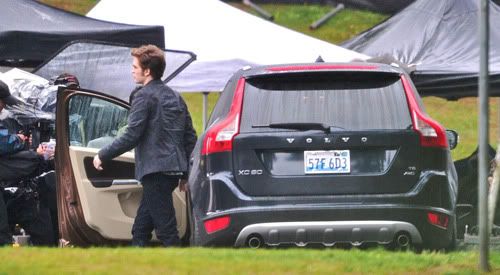 Apparently movie-Edward is going to get a new car for Eclipse. It's an upgrade, to be sure, but there is one tiny problem. IT'S NOT SILVER. Hello - Suckmit? Edward's car is SILVER.

This car is special, just like the Cullens. The Cullens don't like sunlight and neither do their cars. Summit bumped up the budget to make Edward's car a "Transitions" car, you know like Lens Crafters. Self tinting!
You would think a vegetarian who is also socially conscious enough not to prey on endangered animals would at least choose a more eco-friendly vehicle.

Or perhaps Rosalie put sugar in the gas tank of the Volvo to pay him back for making her practically dry hump a tree in Twilight.
Nononono! *clutching my head in my hands* I'm sorry, but I can't support this change. Do I get excited and take pictures of shiny BLACK Volvos when I see them out? NO! It's shiny SILVER Volvo. SILVER. Does Summit do this shit just to F*** with us?

*raises fist* Fight the power!

Thank you, Meadow. Do you think of black when you think of shiny? Nope. You think silver. (Yes you do.) I understand upgrading his car, but let's stick with the basic elements here, shall we?

*nods in agreement* There's no shades of grey here. It's a black and white issue. Or a black and silver one.

Ok, you've got a point. I might possible have one or fifteen shots on my phone that I've taken of shiny silver Volvos around town.

I taught my kids to play I Spy a shiny silver Volvo.

Right - and now are we supposed to get excited when we're following noticing a black Volvo around town?

Do you think because of Twi-hard-om that Volvo ran out of stupid shiny Volvos? Or did "Volvo" pay Suckmit gobs and gobs of money to pimp a new ride, for sales, of course.

Well, I don't care, they've gone too far with the whoring this time. What's next, Shia LaBeouf replacing Rob Pattinson for Breaking Dawn? You know they'd do it, look at what happened to poor Rachelle Lefevre.

... and Solomon Trimble.

When I think of "black" I think of oil slicks and Jacob. Waaaaait a second! Maybe this is part of their Pro-Jacob scheme! Damnit Summit, what's next? You're going to rewrite Eclipse and end it with Jacob and Bella engaged?
Wait, but is that such a bad thing? I don't think she has to worry about Jacob breaking her, and he certainly won't knock her up with a freak child. Plus, you know... he's all warm and hard in all the right places. *ducking*

I like where you're going with that, Ginger. Maybe it would get Stephenie Meyer off her a** and finish Midnight Sun to revive Edward Cullen.
1. Jacob crashes on his motorcycle. The end.
2. Jacob imprints on Leah, saving us from a ton of "

but I love you Bella

" angst. The end.
3. Jacob and Bella do it, causing Edward great (deserved) pain. But then Bella dumps him and goes back to Edward. The end.