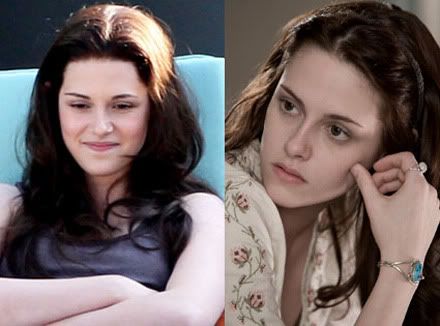 This week's Junior Leaguer is: Ilaira (@ilariacapasso)
Superhero Name: Alice's Apprentice
Superpowers: Being a fashionista on a microbudget; criticizing Summit's poor styling choices in the transposition of the Twilight Saga.
Dear League,
We gotta talk...have you seen the most recent pictures from the set of Eclipse? Here's what we have been dreading...Bella Swan with the most hideous looking wig...no, this can't be happening...I'm angry, upset I think i'm gonna cry, scream (while stomping my foot like Bella in New Moon)...she better not be looking like THAT for the entire movie...is one thing to have Rosalie in a wig, since NO ONE CARES about her, but Bella Swan looking like that when she rolls in the bed and the meadow with Edward Cullen? What about extensions or human hair extensions? I am sure we would have all donated our locks to make a much more realistic look for our girl. What do you guys think? Ah, this is a sad day...and Spank, don't you dare say that the wig looks ok, just to defend Mullet Stewart!
Wait, that's a wig?!!! *snicker* Well one benefit of her having a wig is that I won't have to notice the color difference between her real hair and hair piece like I did throughout Twilight.
It's an obvious wig. Do you think that at the end of the shoot that Rob nuzzles into Kristen's ear and says, "Your hair is so sexy long baby, keep the wig on for later when we watch Sponge Bob, have take out, and smoke a doobie. I'll play with your wig and then we can have fun taking it off. That will be so cool baby. Long hair to short hair.... Oh Kristen, you're so authentic! I love you"!
Oh, well, it's not that bad really. I mean, it looks okay. Oh who am I kidding? It's awful! It's clear that these movies are cursed in the hair department.
*warning look at Rain* Okay, I'll make y'all a deal. You lay off Jasper's hair and I'll refrain from saying anything negative about the fact that Bella is wearing Jacob's wig.