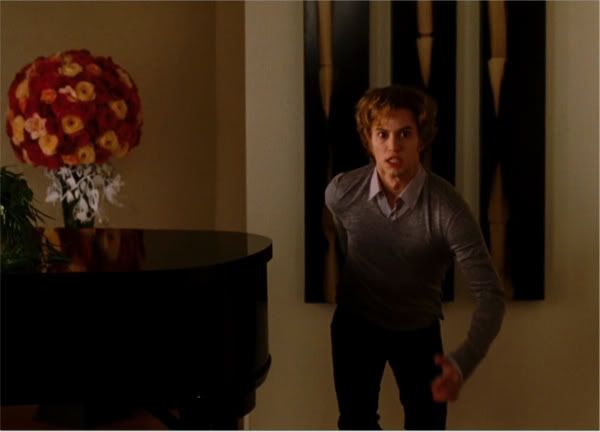 We talk about the continuity issues in the movie all the time but what about the books? When we meet Jasper he is the newest vampire who had poor self control. Yet when they were in the ballet studio it was Alice who could not handle the scent as Bella was bleeding from a main artery while Jasper was seemingly unaffected in the same room. Then all it took was a paper cut for Jasper to go wild? Even worse you later have Bella drinking human blood from a straw like it's a Strawberry Shake from McDonald's to nurture the half-breed on the couch and Jasper doesn't even wrinkle his nose...

Maybe, just maybe, we've read these books too many times? Perhaps if we hadn't read the series 45 times in a row, we wouldn't notice these inconsistencies. While we're on the subject, though, why didn't Alice see it coming? I mean, she knew Jasper wouldn't hurt Bella in Phoenix, why didn't she see him freaking out about the paper cut? I know her visions are "subjective," but still!
Um... Rain. *cough* We've only read the series twice! *cough*
*snicker* Yes, only twice.
I don't thing that it was hard on Alice to be next to the bleeding of Bella's femoral artery, I seriously think she was bullshitting "Carlisle, there's blood," to to get away from the cross-eyed piss ant and have at tearing James' head off. As far as Jasper is concerned, I think he was too preoccupied with tearing up floor boards and looking manly for once in his existence (on screen, anyway). Why bother looking more constipated with blood lust... he'd been there and done that!

So what you're saying then is that Alice was crying wolf. *frowns* This brings up a whole other set of issues... *glances over in the direction of La Push with disgust*


Don't forget to enter the Twilight-Headed Giveaway! You have until Midnight Eastern Saturday to Enter! Winner Announced Sunday!