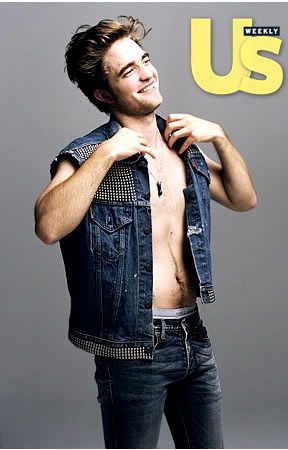 Ok, Rob oozes sex, but I think that bedazzled jean vest is acting like some sort of krytonite barrier. I'm not feeling it.
What. Were. They. Thinking? The only rational explanation for this is that Reba McIntyre was having a photo shoot next door and wardrobe got mixed up. Please people, do not EVER put Rob in a woman's vest again and expect us to find it sexy!
Although, I do have to admit that I was able to look past the vest and see the top of his boxer briefs, thus confirming what I knew all along to be true. And, hello happy trail!
I did notice the top of his boxer briefs and those nicely fitting snug jeans, but then I noticed the bedazzled jean vest again and all my twitching went away.
We just went from dazzled to bedazzled... But, wait! Has anyone noticed the hope diamond sized bulge in his jeans? Back to dazzled... *not looking up*
Does being a part of The League mean that I can't admit when Rob Pattinson takes a bad picture? I hope not. Neither one of these are good. The first one looks, well, just plain odd. The second one looks like they pulled him out of the hotel too early and his teeth are yellowing from all the coffee and butts! Rob, I love you man, but these here pics, just aren't my king of Rob Pattinson...
And in the "wet" picture, the dude looks like he's f'ing freezing cold, and like: " is this almost done, I have to pretend like I know how to ride a bike in like an hour.... and I need a ciggy.
I agree Spider - he does look cold. Perhaps I should go and warm him up...