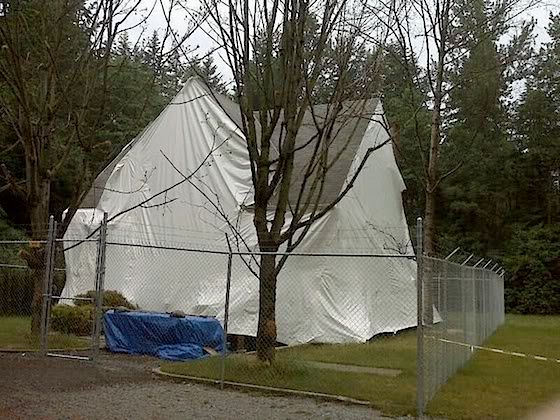 Summit has outdone themselves yet again by constructing Bella's house partially out of styrofoam. Sigh. This is very troublesome. One can only conclude that they're setting the sound stage for Isle Esme on a studio lot with a large swimming pool (as they did for Jaws). Would it REALLY break the bank to build a house to replicate Charlie's. Ya know, the two bedroom, one bathroom home?
Styrofoam is good. Just add ice and it keeps your Vitamin R nice and cold. I think Chief Swan's home design is revolutionary. This is the next best thing to just living in an igloo drunk with a parka in the name of a wolf named Jacob. *slap* What?! Did I just say that? Out loud?
Oh I think this makes perfect sense. In such a rainy climate of Forks, a styrofoam house would solve the problem of termites. You know, as long as the big bad wolf pack didn't try to huff, puff and blow it down.
Maybe they just realized that Rob has a coffee addiction. Styrofoam might not be environmentally friendly, but Rob could always fashion himself a cup from a light fixture if his coffee starts to get cold.