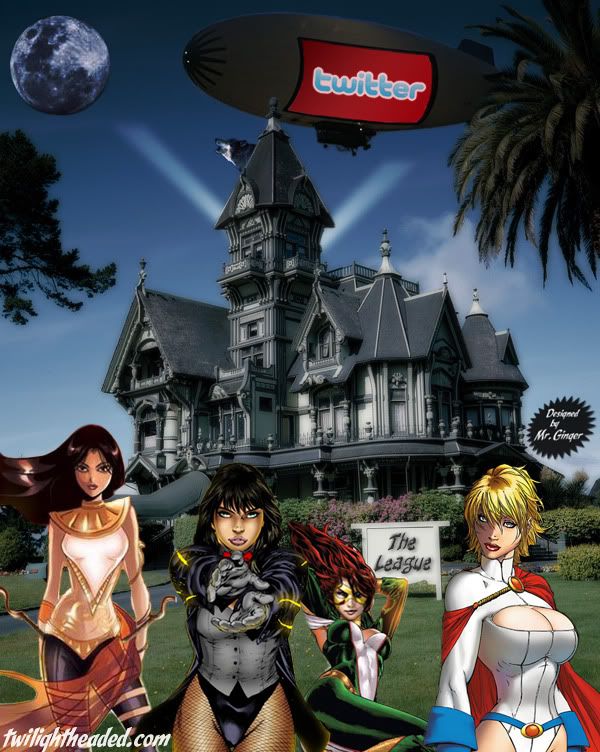 The League has decided we need to spend more time together and so just purchased a mansion where all League pleasure business will be held. It's kind of like the Playboy mansion but for us girls. This is how it will all shake out when we move in tonight.... Of course, you are all welcome to spend time with us at the mansion when we throw our outrageous parties!

Speaking of which, we are so excited about our new place that we're throwing a housewarming party tonight at 9:00pm EDT on tinychat. Follow us on Twitter for details.







In fact we have grounds set very deep that spreads wide across the property. Naturally, we four superheroines needed assistance with the upkeep of such a sprawling piece of property and have hired Twitter's own Seb Stanly to be our lawn boy, pool boy and house boy. Payment terms? That's strictly confidential.


(cough, cough) Sorry, I just choked there for a moment.

WHAT?!

Why are people staring at ME?!
And yes we need a lawn/pool boy. We need him to take care of the Tanzanian Giant Frog at The League mansion.
Ahh, yes... our lawn boy. The prospect of the hired help was actually the inspiration for our new digs. We definitely need a huge pecs lawn. Much bigger.
Let's talk about my room for a moment, shall we? It has a wall to wall bar stocked with the worlds finest Vodka's. And it is a climate controlled room that doubles as a wine cellar for the most expensive red wine one can get. My bed, of course, has more than enough room for me to climb around on it with HIM! It exudes SEX!
Spider, I'm going to be spending a lot of time in your bar, I mean your room.


My room is encased in mirrors with a huge window facing the sun so when I entertain a certain brooding yet disarmingly beautiful and sparkly vampire the throbbing beats of my bed post against the wall can be accentuated by having my room look like Studio 54.


I guess it's my turn to describe my room. Well, it's [censored] and [censored] for when I feel like [censored]. Oh, I almost forgot! It also has [censored] which comes in really handy for [censored]. [censored] knows what I'm talking about.
I like to get wet too, why do you thinks there's a bar in my bedroom? Is the jacuzzi big enough for The League and our guests?
Should we mention the giant plasma TV's and camcorders installed throughout the house...? Do I really need to say what they're for?

That reminds me... Can I bring two dates to the party? Cause I have a guy AND girl in mind. (oh yeah)

Well, well, well Ginger Swan. I didn't know that our first party would be that kind of party. Oh, wait, yes I did.