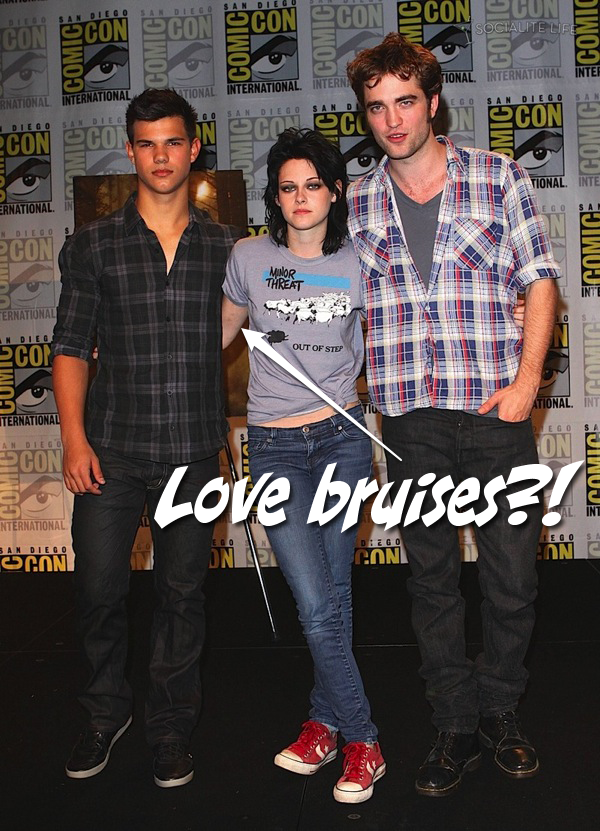 I have to get this off my chest: What bugs me about KStew is that she never seems "real." Rob & Taylor let their guard down all the time. They actually answer questions while she gives only offhand comments like, "I cut my hair off." Are we really to believe that the ONLY change Kristen has gone through after the experience of being Bella is her hair? She just comes off as such a little bitch sometimes.
Okay, wait! I would have answered the question the same way. What could she have said? I broke up with my boyfriend this year. I'm dating the hottest guy on the planet right now. The sex with Rob is great! Oh, and I can eat all the cookies I want and not gain weight.
Bitch.




Spank and Ginger, you are obviously blinded by your girl-crush on Kristen, so your words mean nothing to me.
Girl crush or not, cut her some slack. I mean, first of all she and Rob look like they had a very late night ifuknowhatimean. And she is wearing the same shirt she had on the day before which means she is obviously not only wearing Rob's shirts but also taking wardrobe/hygiene tips from her man.

Crap, she's wearing a minor threat tee. That either makes me like her more if she knows who they actually are, or makes me detest her more if she's just wearing the tee because she thought it was cool. And, I think it is so endearing that Taylor wants to live up to the expectations of Team Jacob.
Ok, the whole thing looked so awkward. And seriously, I'm FED UP seeing Rob running his hands through his hair. I honestly think that the ONLY evidence that Robsten does exist is that they both do/did the same thing over and over again. Puleeze. It was sad to see that it looked like they didn't want to be there - that is just my take. Poof!
Hey guys, the Thirsty Elephant here. I'm The League's mascot. I'm at Comic-Con right now and here to give you my scoop.
During the non-televised panel, Summit was sure to not seat Kristen next to Rob. It was Ashley, Kristen, Taylor, Rob and Chris (Weitz). Rob & Kristen didn't talk to each other during the entire panel discussion. They both seemed hyper aware that people were watching them. Actually everyone seemed fidgety except for Taylor. Also, everyone seemed noticeably well-rested, EXCEPT Rob & Kristen who looked EXHAUSTED. Rob was extremely nervous. Kept running his hands through his hair. Kept stammering while answering questions.
One question asked: "Rob, are you planning on doing any open mics like you used to?"
Rob: "To be honest with you I'm a pussy."
They showed us two New Moon clips:
1. Jacob was showing Bella how to ride a bike. She revved it up and saw Edward in her mind. She drove off and crashed the bike. Jacob ran over and she was bleeding in the head. He then took off his shirt (a bit cheesy) and wiped the blood off her head with his shirt. She looked up at him and said, "You're so beautiful".
2. Showed Alice and Bella in Italy, in the yellow Porche. Then showed Bella running through the square toward Edward. Edward is shirtless and about to step into the light. Bella yells....
Thank you Thirsty Elephant! You're the only best damn mascot we've ever had!!!