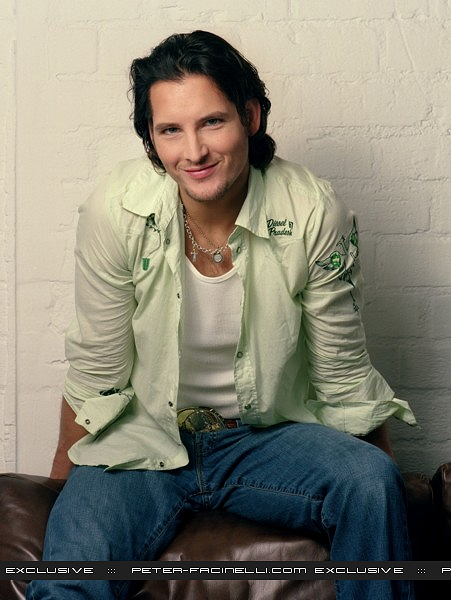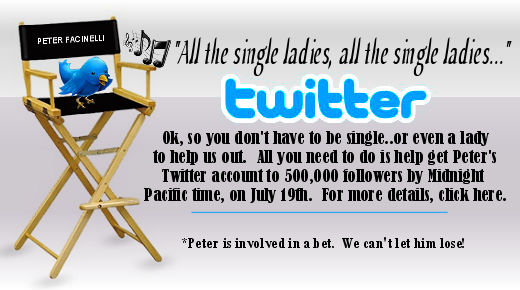 Peter Facinelli is a betting man. He bet his friend Rob (no, not THAT Rob) DeFranco that he could get 500,000 followers on Twitter by Friday, June 19, 2009. Yep, that's tomorrow. So, what's on the line? The cloth backing on his Twilight director's chair bearing his name (and, he says, some of Rob's sweat (yes, THAT Rob). If he loses, Rob D. gets the chair backing and bragging rights. If Peter wins, Rob has to dance to Beyonce's "All The Single Ladies" on Hollywood Boulevard while wearing a Twitter Me sign. Oh, and a yellow bikini.
Even better? WHEN Peter wins, he will also give the chair backing to one of his Twitter follower's. So... what do we need from you? Simple. We need you to go on Twitter and follow Peter Facinelli (@PeterFacinelli). One more thing: tell your followers to follow him (and so on, and so on, and so on). Let's show Rob DeFranco what happens when you go up against a Twilight Army!
Paging Dr. Cullen, Dr. Cullen? Please Twi-fans, report to Twitter and follow Peter Facinelli. Don't all the fans "wanna know" if Esme is really, really, worth a lifetime of "Buongiorno"?

Peter needs his fans help to win this bet! Let's rally for him! C'mon ladies! Do it, do it for Team Cullen! You'll rest must easier if you do.
Yeah, look what I did to my poor kitty, just to spread the word about Peter's plight! Is that dedication or what? Right now my kitty is running around the house showing that message to all the other kitties.
On a sidenote: I'm wondering how long it will take for the Sharpie ink to wear off. hmmmm....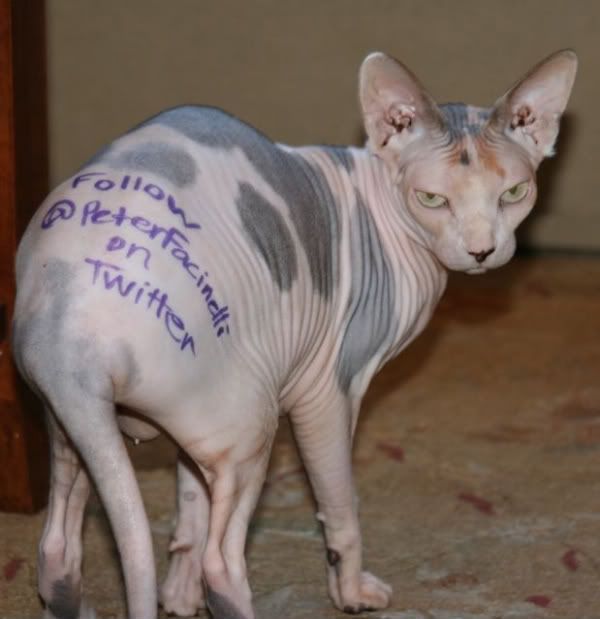 May I suggest a whirlpool bath in the toilet. Don't forget to add peroxide and Hello Kitty bubbles.
That is not right, Rain! You know my kitty is awesome.
Ginger, what were you thinking?! You realize that Dr. Cullen is NOT a Veterinarian but a Medical Doctor. He can't fix THAT!
Um, Spank, you DO realize that Peter Facinelli is not REALLY a doctor (even though he plays one on TV - (Shameless Plug Alert: See Peter Facinelli as Dr. Fitch Cooper on Nurse Jackie, every Mondays at 10:30 PM ET on Showtime).
Of course he's not a doctor! I'm not delusional, Rain. I know that he only graduated from high school in 1998. Of course, back then he went by the name Mike Dexter.
Peter, if you win, will you play doctor with us? What?! My Mama taught me it never hurts to ask.
I'd like to also give a special shout-out to Gil Birmingham (@gilbirmingham). He deserves to get a ton of followers too. I feel a special kinship with him since he's Native American, and I have a Native American tattoo on my back. I'm pretty sure that makes us related. Plus we were at the same party (Twilight Wrap Party), so we were breathing the same air at the same time. It's like I was breathing his second hand celebrity Co2.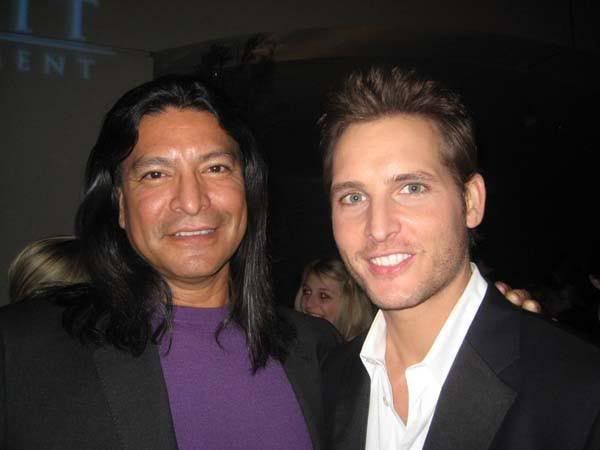 OH! And we also want to give a special shout out for you to follow Billy Burke (@Billy_Burke) who changed Charlie Swan from a two dimensional background character in the book into a complex character who brought feeling and heart to his role. Oh, and he also made Charlie Swan uber-hot (love that 'stache!) Also, follow Rachelle Lefevre (@Rachelle_Lefevr) a super talented lady who also happens to be the hottest redhead this side of Ginger Swan.
And while we're spreading the love, we're giving a shout-out to all the other blogs that are featuring the Peter Facinelli plight today. Follow him, dammit! And thanks to all the tweeple out there tirelessly tweeting for Peter. (say that 3 times fast)