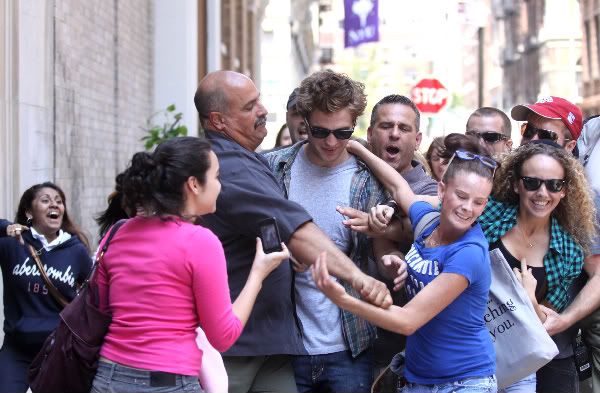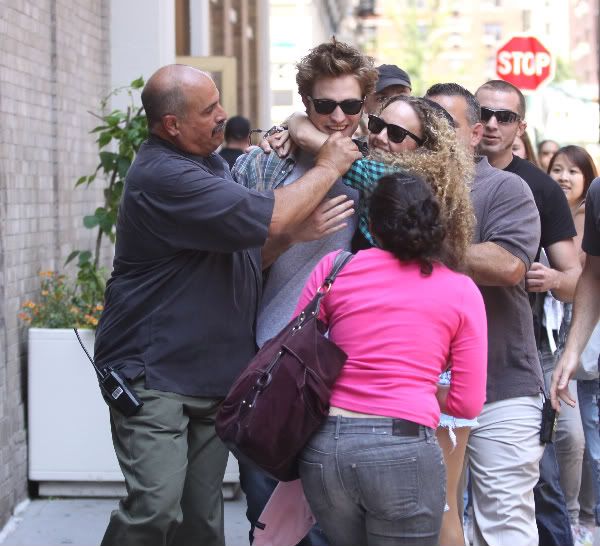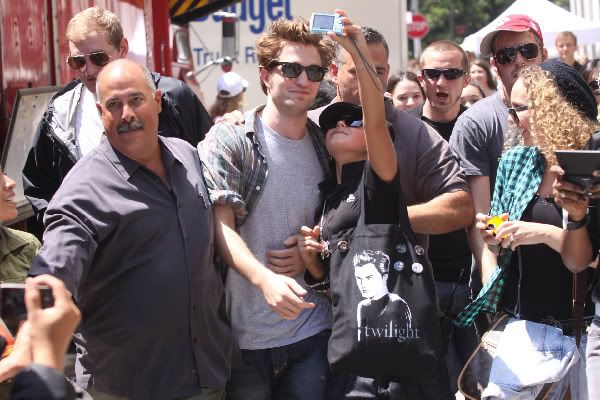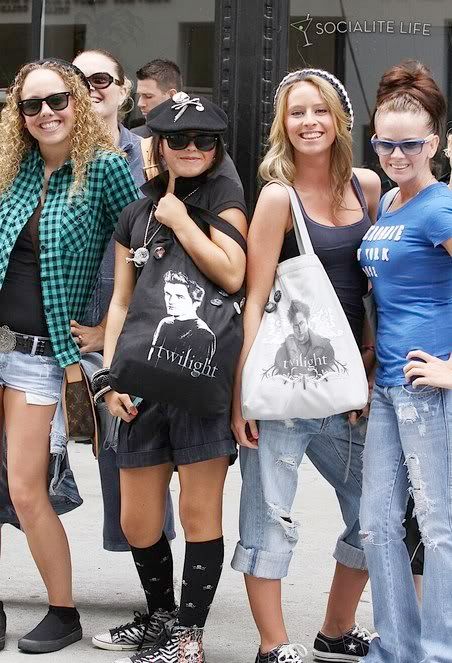 I'm thinking the bodyguards should start using tasers. And I can ask my brother if he still has that BB machine gun. Won't cause permanent damage but should deter them.
Uh yeah... because the
pinch
-move? That's not really working out.
So, yeah, not cool AT ALL. This really disgusts me. I know we are all enormous fans of Rob Pattinson but who in their right mind would chase the poor guy or start screaming at him. We all make our jokes on here but I would NEVER harass someone like that. If this keeps up the kid is going to have a nervous breakdown before Eclipse is in the can. He doesn't need us to protect him
per se
, but I do think some League Justice is in order!
These nut jobs that make Rob's life a living hell in public should be sentenced to the following punishment deliverable via The League of Extraordinary Twilighters. Keep in mind, I'm trying to think of punishments without reverting to my Sicilian instincts. It's not easy. But here's what I think is VERY fair.
They should have their homes raided and all Rob Pattinson or Twilight related items shall be removed; they shall be banned from viewing any future Rob Pattinson movies; they should be forced to write a 900 page book that says "I love Jacob" over and over and over. Handwritten, of course. AND then they should be screamed at in the face by hysterical women and chased through the streets for an entire month.

Now I think that's getting off quite easy, if you ask me. However, should my anger get the best of me I'm liable to gouge their eyes out, pull out every last strand of skank hair from their heads and anchor them to the ocean floor ALIVE. What? Too much?




LOL Spider. But tell us what you really think about it.
These miscreants who stalk Rob Pattinson and physically assault him are not "fans" or "Twihards" or even "Robsessed." They are desperate irrational psychopaths who have no sense of basic humanity. YES, Rob is an object of desire for us all but he is not an object. YES, we all talk about how we want to do things to him that are illegal in many countries but we would never EVER do them without invitation
(Rob, if you're reading this... you only have to ask)
.
People, Rob got hit by a car to avoid these set-stalking freaks. Granted, it was a NYC taxi and they have been known to aim for people but still... It happened because he is under seige and trying to escape. Clearly, this has gotten entirely out of control and it is time we responsible Twilighters take action.
Now I like where Spider's going with how to handle these skanks. As you know, I too am Sicilian. We don't take kindly to disrespect. In fact, there are severe consequences for those who don't toe the line. So in the spirit of The Godfather, I'll make these bitches an offer they can't refuse: Stay the hell away from Rob Pattinson. Far, far away. In sum, bitches, you're nothing to me now. You're not a Twihard, you're not a fan. I don't want to know you or what you do. I don't want to see you at the hotels, movie sets or bars. I don't want you near my great state of New York. In fact, stay out of the Tri-State area. When you see New Moon in theaters, I want to know a day in advance, so I won't be there. You understand? Good.
Okay, first, don't mess with the Sicilians on the League. Or the redhead, for that matter. Trust me on this one. As for me, I may be small, but I'm quick (and I have two Sicilians and a redhead to back me up). And, seriously people, we need to respect Rob.
I, for one, don't want to see Rob go the way of that hot guy from Sixteen Candles (you know, Jake Ryan). He was so overwhelmed by the pressure he is now a recluse who makes furniture. Do we want this same fate for our Rob? Not me. I want to see him make many more films... so I can continue to watch his amazing ass work as an actor.

Or how about Vanilla Ice who ended up running a bicycle shop?
... and I bet he's as successful a bike shop owner as he was a rapper. At least Rob has talent which means he'll likely end up like Marlon Brando, a recluse living in Tahiti with a harem of women.... wait.... The League could do
Rob
Tahiti.