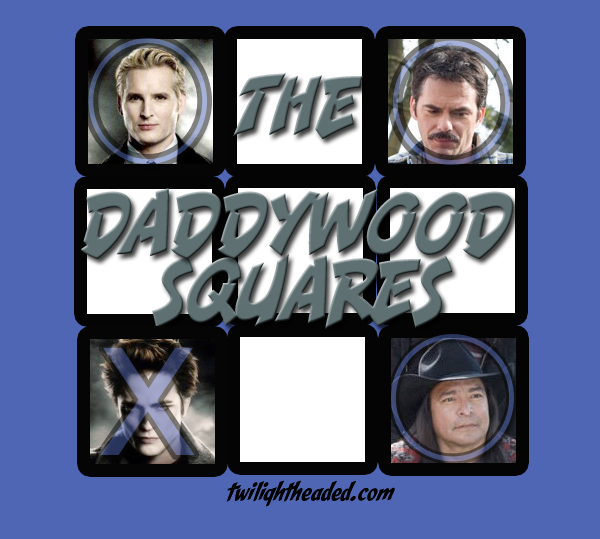 No father deserves a nice cool bottle of Vitamin R, with his feet up on the recliner and a good ball game on TV more than Charlie Swan. Not only is he the single dad of a teenage daughter but of one who happens to be in a love triangle with a werewolf and a vampire (not to mention in constant peril). So put your hand in your pants and scratch where it itches. Because today it's all about you, Chief Swan.
I concur. Charlie you totally stole my heart. (in a non-sexual, paternal kinda way) The way you snapped your rifle together when it was time to meet Edward made me want you to be my Daddy. (and not like that, perverts)
I also want to give a shout-out to Billy. You give one of the best stink-eyes I've ever seen. And I've gotta give you props for having raised Jacob and not drowned him as a young pup. Because I don't know that I'd have that kind of restraint.
Yeah, Billy should be sainted. I mean his son is nothing but an animal who eats poor Billy out of house and home, and he has no social graces. I don't know if drowning would work, though -- I'm quite sure he knows how to do the dog-paddle.
Billy? He raised
Jacob
! Jacob, who manipulated Bella into kissing him and thinking about puppies for goodness sake! No! No shout-out to Billy here. Although, Ginger, I do have to agree with you on the stink-eyes.
But Charlie... ah, Charlie. Not only are you the kind of dad who can make us all want you for our own, but you also rock the 'stache like no other. Major points in my book for a dad who can pull off a mustache so well.
What, Rain... you hold Billy responsible for Jacob's actions? I suppose you blame Jeffrey Dahmer's parents for his actions too. Oh wait. Never mind. You probably should.
H.E.L.L.O. - There are two men in particular that deserve the highest of praise and honor this Father's Day.
Richard Pattinson, may I call you my hero? You and your super sperm saved the day! I wonder what you were doing that night or day when you and Clare became one and created this most beautiful child. We're you out partying with friends? Was it a morning "hide the sausage" kind of moment? Or was it just simply, "hun, do you want to do it" after watching Johnny Carson? Whatever it was really doesn't matter. The fact is that a miracle was created inside the womb of your wife. And for that I thank you, Richard. Thanks for not *pulling out* of your commitment once you started.
There is another man on the flip side of this coin. You may think he's irrelevant, but I do not. His name is Carlisle Cullen. What you did was so difficult, but you had a vision. You were brilliant to recognize this child/man for the honest and beautiful person he would soon become. You knew he would be perfect. And with your fatherly guidance you made your son perfect for the world to cherish eternally.
As I raise my martini glass, I toast to you two men! Cheers!
Dare I mention that Edward is also a father? *duck*
Don't make me...
Spank
... I'm in a foul mood.
Uh, we'd have to acknowledge his paternity to that freak of nature in order to celebrate Edward as a father? Not sure I can do it.
Oh no Spank... you didn't. The thought of Edward as a father makes me shudder. And not in a good way.