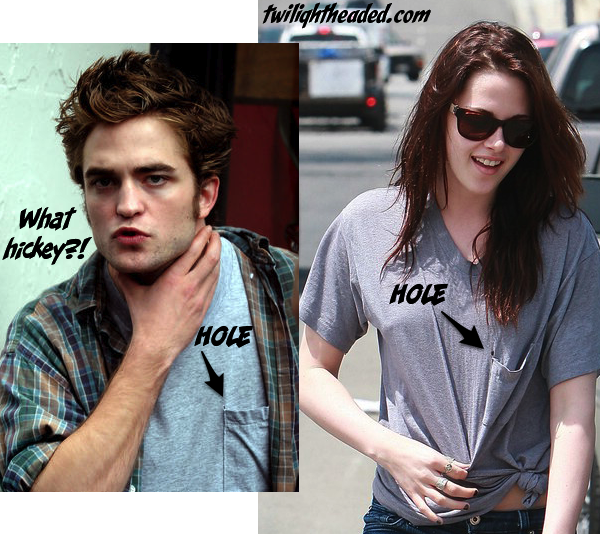 I am thrilled to confirm Robsten right here on The League. Be assured that after seeing this apparent photographic evidence I did my due diligence and called the Gap. They don't sell gray t-shirts with holes upper left corner of the pocket. And, yes, I also checked with Hanes, Fruit of the Loom and Jockey. Nope, they say, there are no holes on their gray shirts either. So, sing with me friends, "It's a love story, baby just say yes... "
I cry foul! You're falling for this Spank? Kristen's shirt is CLEARLY not the same one and it is VERY obvious that her hole is a photoshopped hole. And yes, I mean on the hole on the tee, dirty minds! It's not even the same color and the neckline is different. Now, they do have very similar sunglasses! If that makes them lovers you must be in heaven. Hey Spank, you know what, I have a Mini-Edward and so do you. Do you they'll catch onto us???? :0
Denial is not just a river in Egypt, my friend. Same hole; same shirt. Spank rests her case. Next argument, please?
You and your "legal lingo" are giving me whiplash.
I have to agree with Spank. She's pulling down on the shirt which makes the neckline look different and in different lighting, the same shirt can look different in different pics. The hole is in the SAME place.
The possibility that they are different shirts is approximately 3720 to 1.
I concur! Sorry Spider, you're outnumbered. I hate to say it (really, really hate it), but it's pretty obvious that they are sharing this tee, which of course means that they are sharing other things as well...
The possibility that they are

only

sharing that tee is approximately 3720 to 1.
The League has reached it's verdict by majority vote in favor of Robsten. It is so decreed by The League that there are absolutely no holes in this story, other than the ones on the shirt in question. *bangs gavel* Case dismissed!
You're not going to let this go are you? Well, I sure hope you like disappointment League. Ain't no Robsten!