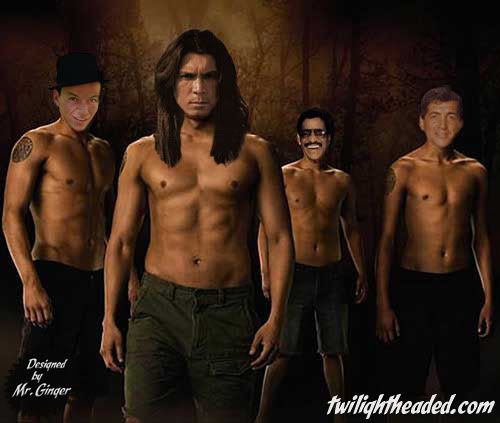 When I read the series I didn't exactly get the impression that the Wolf Pack was particulary good looking.
I pictured them to be more like the cross-eyed dude in Twilight that said, "

the Cullens don't come here.

" Let's pause and pay homage to the delivery of that line! Wow! That could possibly get him best supporting role at the Native American Movie Awards.
Anyway, the pictures that are coming out of the Wolf Pack have me thinking that instead of these "kids" looking like a pack of rats, they're looking pretty hot. And I'm kinda thinking that if Sam Uley found me in the woods, and nobody was around.... why not rustle some leaves before the feathers?






The Wolf Pack?! I was able to tolerate the Brat Pack back in the day (barely), I love the real Rat Pack (take it away, Frank and Dean) and I want to be the first chick member of the Frat Pack (You're my boy, Blue...) but the Wolf Pack? The only thing that those animals make me want to do is get a hunting license and find out when and where wolf hunting is permitted. *muttering* Wolf Pack... what in the world... I just can't... crazy piss-ant. *muttering*



Who's Frank and Dean? Must be before my time. *snicker*
Anywho, LMAO at the dude who delivered the "

The Cullens Don't Come Here

". The Wolf Pack still doesn't do it for me though. Now, if we were talking about Lou Diamond Phillips dressed as Chavez (Young Guns) I'd totally take a tumble in the woods with him.
Oh, Ginger... you're killing me. For real? Ick!
Lou Diamond? Really, Ginger? I'll second Spider's "Ick." But, the Wolf Pack - YES, bring it on! I could do without Jacob (because he's the most annoying dog ever) but the rest of the new and improved Wolf Pack?! I could spend some time with them in the woods. Definitely.
Dudes... I carried a torch for Lou Diamond Phillips for YEARS.
Don't be hatin' on my guy.
Ginger, put the claws away. I promise, we would NEVER mock your *love* for Lou Diamond Phillips. *cough* At least not to your avatar. *cough*
But more to the point, League ... I mean, really, can't we just give these dogs some Scooby Snacks and send them back to the pound where they belong?