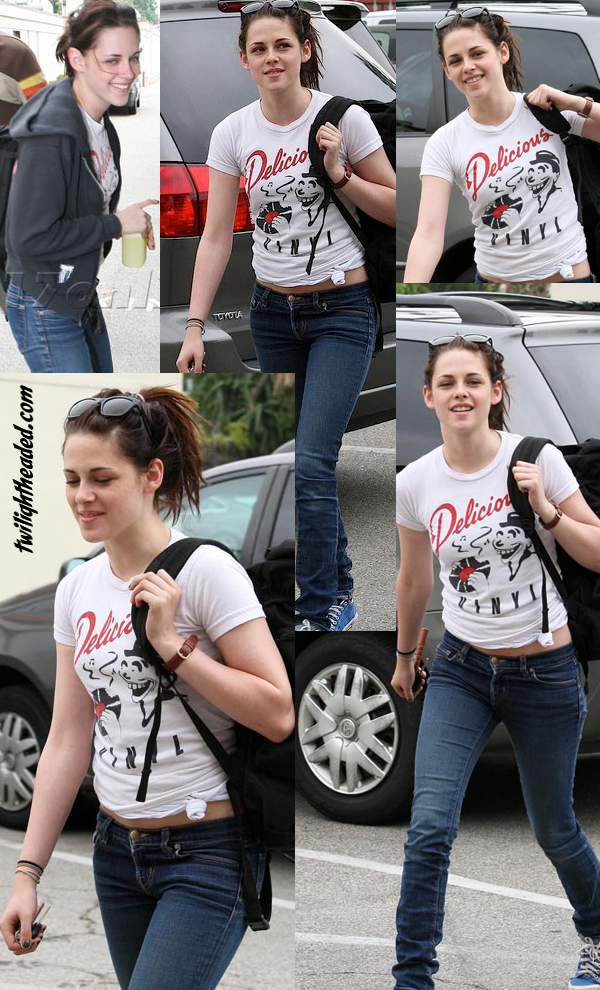 Slightly more rare than sightings of El Chupacabra... K.Stewpid was actually smiling for the Paps in L.A. Hmmm... what could possibly be making her so happy? (cough, Robschlong)
This is exactly why I'm pro-

Robsten

. When she smiles she doesn't look like a grumpy

stoner

. She looks like a girl in love. Rob is obviously a good influence on her.





My guess is that the paparazzi were shouting "Kristen, do you love Rob? Are you and Rob dating? Do you miss Rob?" It's obvious that she can't help but smile when she hears the name Rob Pattinson. I mean, really... can you? Yeah, me either. *smile*
Y'all know I couldn't make it through an entire post without complaining though, right? I dig the smile and can understand the messy-hair walk of shame look she's imitating from Rob. But I'm not so much about the knotted tee. Kristen, 1992 called. It wants it's bad fashion statement back.
We could be way off base here. Perhaps she just had a fifteen minute phone call with Geico and got the great news that she's going to be saving 15% or more on car insurance. Makes sense, right? We know she drives a high risk piece of shit truck.