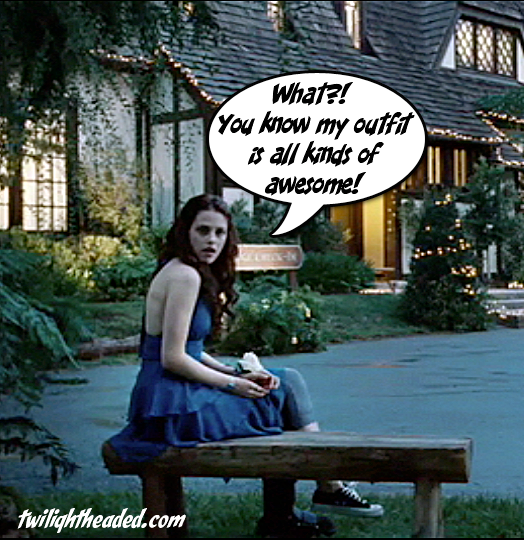 This week's Junior League Member is: Red Reader
Superpower: Reading a book at the speed of light!
Why in the world does Bella wear leggings and converse with her prom dress? Everyone else looks really dressy and she wears converse? The whole issue in the book was that Bella was clumsy, and she was worried about embarrassing herself. She was supposed to wear high heels that were a death trap. She was supposed to be uncomfortable until Edward made her feel better. I just don't understand WHY they made Bella seem less clumsy. It was almost as if they feel a 'heroine' shouldn't be clumsy and vulnerable. Or could it be that they figure people attending a prom in a town with 3,120 people can wear converse and leggings? It just really bugs me.
This is simple. Because she's a piss ant!
Leggings and converse with a prom dress? I blame Catherine Hardwicke. Though I must say I'm glad movie Bella didn't protest about prom as much as book Bella did. Cause her extreme aversion to parties in the book made me want to bitch-slap her.
If we're going to talk about differences from the book, let's remember that in the book, Alice helped Bella get ready for the prom. There is no way that Alice would allow such a fashion FAIL.
I'm blaming this on KStew. Did anyone happen to notice her outfit (and shoes!) at the MTV Movie Awards? She obviously thinks that dresses matched with converse are a good idea. Don't get me wrong, I love my chuck's but they should not be worn with a prom dress.
Don't call the fashion police on me but when I crashed my prom I was wearing sneakers too. It wasn't true to the book but not much was. Besides tell me how anyone can walk in one stiletto heel with a leg cast? I am more pissed off that Alice and Jasper weren't in the movie prom scene.
First of all, this is not any kind of news flash, Spank. Anyone who has seen how you dress would surely put you and Bella in the same category of "fashion challenged".
But I'm getting off track, and here's the deal, who the frig was even looking at those stupid details when Edward was in the screen shot. It must be a man who pointed this out because I couldn't peel my eyes off Edward for a second. It got so bad that I forgot to blink and my contacts got all dried out, not pretty!
Last I checked Rob Pattinson likes his girls a little on the casual side. I was wearing flannel before Kurt Cobain smelled like teen spirit. If comfort is king, I am its queen.