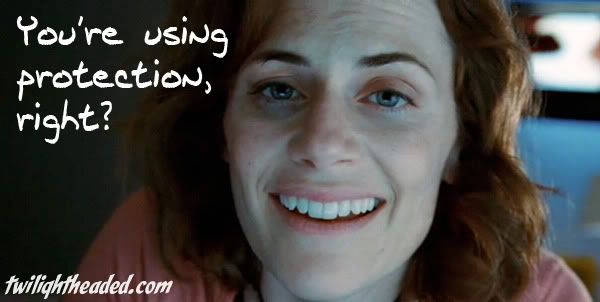 Today's junior league member is: MrsP_ifurnastee
Superpower: Master of the Naughty Innuendo and Unabashed P.P. -- if you don't know what that is, then you don't need to know ;)
*---SPOILER ALERT---*---------DO NOT READ IF YOU HAVEN'T FINISHED BREAKING DAWN--------

How is it that Renee is such a bad mother? You would think that Stephenie being a mother might make this mother figure a little more believable. I would never send my teenage daughter to live with her anti-social, homebody, police chief father, unless she had done something horrible that warranted EXTREME MEASURES. Then throughout the story it seems as if Renee has completely given up all of her parental responsibilities, except e-mails to check up on Bella (like a teenage girl is gonna tell her MOM everything that's going on with her). Renee seems so oblivious to all the craziness that is Bella's life. I guess Stephenie needed to do that to help the story along, but as a mother I am frankly appalled. If I came across a mother like her in real life, I would definitely report her to Child Protective Services. I mean really...I would hope that if my child--


Was trapped and tortured by a rogue vampire who broke all the bones in her body;


Traveled to Italy without adult supervision to save her boyfriend;


Jumped off a freakin' cliff;


Was caught up in a twisted love triangle between a Vampire and Werewolf;


Got married and fell mysteriously ill immediately thereafter;


HAD A BABY!!!!;


oh you know.....Turned into a VAMPIRE...;


Helped to save her new VAMPIRE family; and


Helped to mentally defeat an arch enemy and avoid the Mother of all Vampire Showdowns
THAT I WOULD AT LEAST KNOW ABOUT IT!!! *FUMES...mumbles to herself.....*
I'm sorry you ladies are gonna have to go on and discuss this without me...I need a minute to calm down....
Oh, I've always hated the idea of Renee as a parent. It also used to bug me that Bella called her parents by their first names, but since they were such suck-ass parents I accepted it. I don't really blame Charlie because he never really had the chance to be a dad.
What about Esme? She lets her kids have s-e-x ... IN. THE. HOUSE!
You're totally spot on, Mrs. P. I think Renee was too busy boning her new youthful husband to care about being a parent anymore. Cause we all know the spontaneous sex ends when you have kids around.
Maybe that's the REAL reason why Bella wanted to leave. At least she knew she wouldn't come home from school and find Charlie naked on the couch.
*snicker*









At least Charlie was just watching baseball whereas Renee was actually rounding third base forcing a squeeze play on the couch with Phil as she makes her way toward home plate.
*Holy Cow I think they're gonna make it.*
Mrs. P, great points. I think her disgusting grooming habits are reason enough to have called the Department of Social Services on her. We should refer to Renee as the real hairy monster of the series!