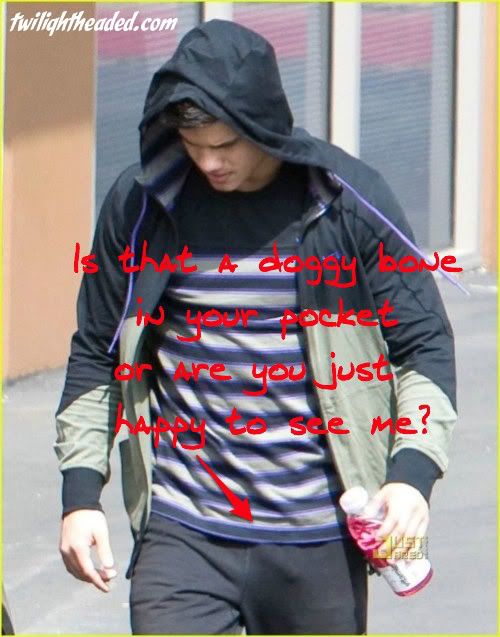 Dang! Someone is hanging free (and leaning quite a bit to the left). And more importantly, why can't we get a picture like this of Robert Pattinson?
Whoa, so that's him "unwrapped"? I may consider a one timer with Mr. Lautner (it makes him sound like an adult that way) if he promised to not speak and wear popsicle stick edward over his face before during and after the encounter/rape.
I'm not saying I wouldn't have a look-see if his pants were off. But you guys know I don't like it doggy-style.
Oh Ginger, you're such a tart. Nothing wrong with a little growl and bite once in a while.
Oh my! Isn't this technically child pornography? Surely it can't be legal to circulate a picture of Taylor that answers the question "Is he circumcised?" even if his pants are still on. (Um, yes. He appears to be.)
What, do you have microscopic eyes or something? Or did you "blow" it up so "big" that you can tell?
Double entendre's like "blow" and "big" don't work for me when referring to Taylor Lautner. I look at this picture and it appears as if he has an air pump in his pants that he will use to blow up his Selena Gomez helium balloon.
I don't know, Spider. I'll have to go with Meadow on this. She's got a point. Actually, Taylor's got a point.