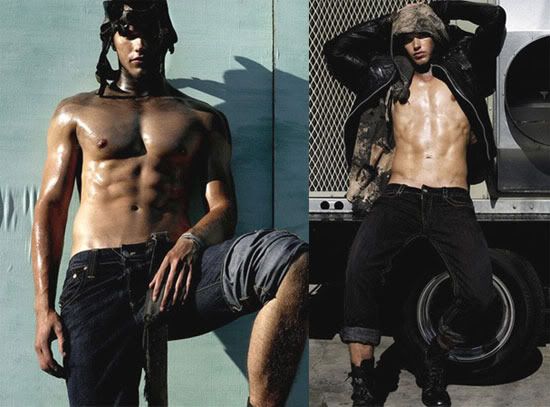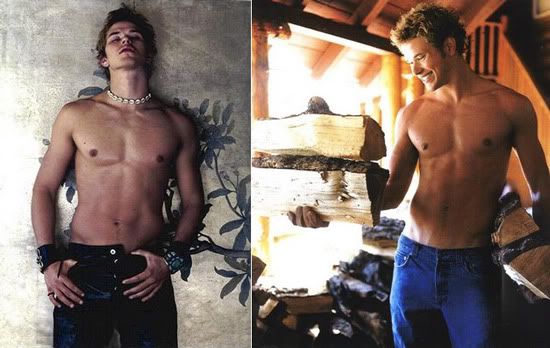 Emmett is described in the book as Edward's favorite brother so I figured he deserved a write up. Personally my favorite brother is Jasper but that may have a little something to do with my lifelong love of Xanax hot baseball players. But Emmett is such a happy go lucky guy so it's hard not to love him as well. While he personally doesn't *do it* for me, his character does always make me smile -- maybe he's my own personal brand of Zoloft. He's also proof that opposites attract (either that or Rosalie's a wild grizzly bear in bed).
I'm pretty sure Rose

is

a wild grizzly bear in bed. Most of us icy blondes are. At least, I know

I

am.
I don't think his character was highlighted enough in the books or in the movie...
I loved Emmett's fun-loving spirit in the books. But I must say, I'm thinking a little differently about Emmett since I saw those pics.




Not my type. I like white, red stained lips and eye liner on my guys! Does that make me a lesbian?? Ewww...
No, I think it makes you a Jared Leto fan.





Spider, there wouldn't be anything wrong with it if you were. After all, we need someone to keep Nikki Reed and KStew distracted while we find Rob. And they like playing fake lesbians.
I'm into equal opportunity. I don't discriminate. As long as they belong to the male species, I can boink appreciate beauty in all forms.
Kellan seems like a really cool guy but he isn't my type. I mean, I would just feel guilty every time I ate junk food, drank beer and smoked cigarettes. With Rob I'd feel like I could really be myself, you know...