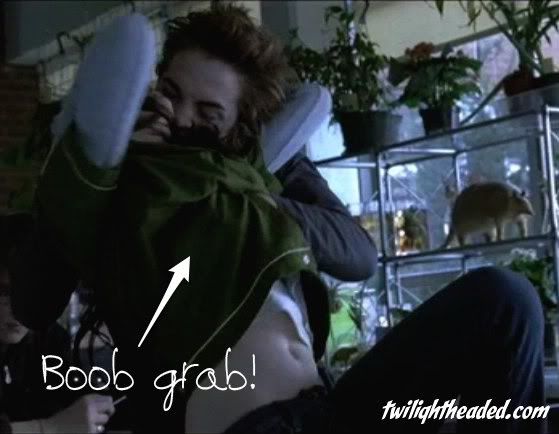 This weeks Junior League member is Twilightish from http://twilightishfandom.blogspot.com
Okay ladies, so I think we should discuss this scene from the special features, the Vampire Kiss Montage (it's in the Target DVD, if you don't have it, Git' it now!). Forgive me if my eyesight is failing, but is Robward grabbing KStew/Bella's boob? Looks pretty close to me. Oh what I wouldn't give to be KStew at that precise moment when he forcibly grabs her from behind, bites her neck and grabs her boob...Oh shoot, gotta to buy AA batteries now. Dang it!


Edward is no different than any other 17 year old guy trying to feel up a girl first chance he gets.
Well yeah... if Bella's blood is his own personal heroin, then a good boob grab probably makes the high even better, right?
That's kind of a complicated move; he pulls to get to her breast AND her neck. I bet that's what they spent all that time in his hotel room "rehearsing."
Well it is true what Edward said: she can't fight him off! But, I mean, who would? She's not even trying! Does anyone else see that Kristen Bella is wrapping her hand around his neck, pulling him ever closer? That is NOT a defensive move.
Song lyrics come to mind when I see that picture: "Do that to me one more time, once is never enough with a man like you....."