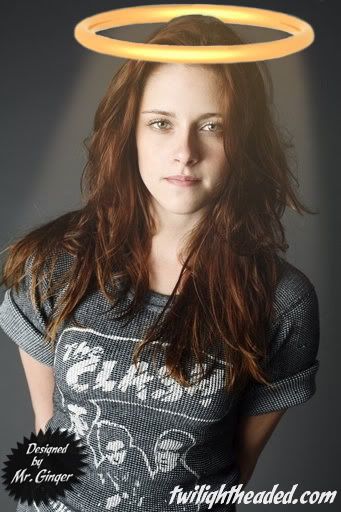 So by now I hope most of you have watched Twilight with the DVD Audio Commentary featuring Rob Pattinson, Kristen Stewart and Catherine Hardwicke? No surprise but the star of this is, again, Rob. He just nails it with his self-depreciating humor and quirky view on his performance (and eyebrows). But this post is titled Team Kristen for a reason. Buried in between the nuggets of Pattinson's pure comedy gold were some revelations by Kristen that have me rethinking my entire stance on her in certain, um, much criticized scenes.
1. The garage scene. They had to film it in one take and in 10 minutes due to production schedule issues. This was a pivotal moment and it was rushed. She hated how it came off but could not do another take.
2. The hospital scene. She HATED that she had to stutter and was very unhappy with her lines in that scene. As an aside, Catherine Hardwicke alludes to the "onset drama" that day which was discussed in our original post regarding this scene.
3. The bite scene. Now I didn't necessarily have a problem with this but I appreciate that she did since so many other Twilighters I know have taken issue with her during this other key moment in the film.
I have long vascillated between blaming her and blaming the director/production issues with respect to what I didn't LOVE about certain key scenes. After Kristen started giving attitude toward fans and generally subjecting us to lackluster interviews I focused my frustrations on her.
But it was in her own words that I was able to see that it was not necessarily her fault that some things weren't "right." It seems like so many problems with this movie (make-up, dialogue, continuity issues) were because of production and direction and not the actors. So as they have begun filming New Moon I will declare myself as Team Kristen in the hopes that with more money and a new director all the pivotal moments and deep emotion of New Moon will be handled with care.
Ok, who put the imperius curse on Spank? Clearly my girl is not in her right mind!
No, in reality, every time I've watched Twilight, I've been convinced that Kristen was perfectly cast as Bella. I still feel that way. I started out being pro-Kristen. And she's single-handedly changed my mind about her from the way she has been in interviews and the way she's treated the fans. She's been a sour-puss, piss-ant. I'll give her a little slack in her performance (which I liked anyway except for the hospital scene) but I'm not excusing K.Stewpid the person. I mean, just compare her attitude to the attitude of Taylor who fought to keep his role as Jacob. K. Stewpid.
*taking deep, calming breaths* Okay, okay. OBVIOUSLY she's trying to be "true to her craft" or some such bullshit so I'm going to give her a teeny tiny compliment and say I'm glad they didn't recast her. It was okay for her to be stutter-y and flat in Twilight because she was "dazzled." But she better man up and insist on however many retakes are necessary for New Moon. If she pulls off the reunion in New Moon I may consider all to be forgiven. Now, can we stop discussing boring stuff like K. Stew and discuss how H.O.T. Edward will be in Volterra?? PLEASE??
Piss ant.