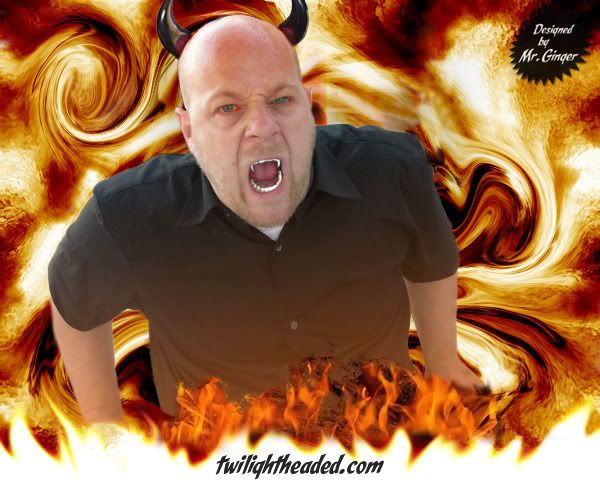 According to this article on EW, Eclipse has a director and it's NOT Chris Weitz. Since he's barely begun filming New Moon I can't help but worry that this announcement will have SOME sort of impact on the film. I mean, seriously? Summit could've at least waited until the kids were out of the house to serve the divorce papers.
I'm sure it's just for scheduling reasons. The Harry Potter movies keep switching directors since they film them so close together.
I'm going to have committment issues with David Slade if I don't get some action in the bedroom when Edward comes back from hunting and I want to SEE Jacob's pain when he hears that Bella is engaged to Edward. Not because I want to see a dog when he's down (surprise) but because I think that is the first time you really understand how deeply he loves her and the depth of the pain he feels when he realizes it is never going to be returned. It's a pain that leaves a hole in you forever -- or at least until you imprint on your former love interest's infant daughter.
I wonder what Slade's track record is on pain? Because that's sort of the gist of Eclipse, isn't it? Bella is in pain about hurting Jacob, Jacob is in pain about losing Bella, Edward is in pain because he was an idiot who left her to get attached to Jacob in the first place. Plus Edward can read Jacob's mind and knows the dirty, dirty things a 16 year old boy would think about. So, yeah, pain.
If he screws up Eclipse, Slade will have a pretty good track record on pain. I will personally see to it.
This is going to be the toughest movies to make because it really isn't very substantive in my book. Yes, the whole Edward vs. Jacob thing, blah, blah, blah... Didn't we all know who was going to win. Besides, all Slade has to do is tell K.S. to be herself on screen. A confused, stupid piss ant. C'mon, Edward vs. Jacob? She should have been killed off just for that stupidity alone!
She can also tap into her angst over Oregano vs. Hot Spice.
Is that an invitation, Mr. Slade?
That's the beauty of the internet. Don't say something negative if you don't want it to come back and bite you in the ass, Mr. Slade. With comments like that, I bet you'll decide to be all "Team Jacob" just to piss us off, too.
Maybe we should make "Piss Ant" a term for ALL Twilight haters. Then it'll apply to him too.