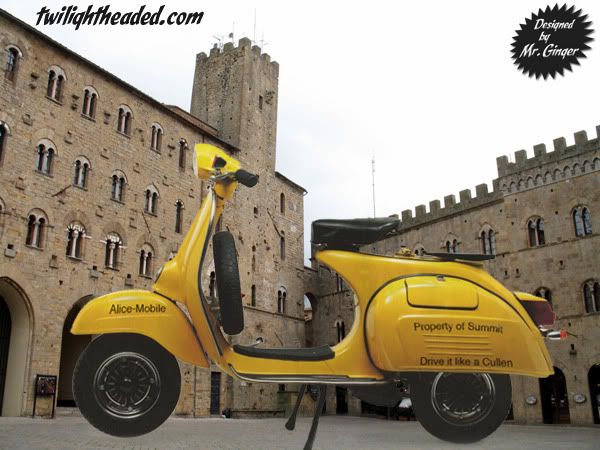 The day is drawing near... filming in Volterra Montepulciano begins the end of May. Did you know that Montepulciano is located in the heart of Tuscany and is known for their wine (Rob gets drunk), pork (Rob gets Kristen) and cheese (Rob sings love songs in Italian to Kristen). But more than that, this is where our beloved Alice whisks Bella to Italy (and away from that mongrel Jacob) to rescue our tortured vampire from self-destruction and we get: The Yellow Porche. Well, you know how Summit will stop at nothing to destroy our Twi-world and they LOVE to nickel and dime the Twilight franchise? What if they try and put Alice in a yellow Porche Boxster instead of a 911 Turbo? I mean they did take Edward out of an S60r and squeezed him into a *gag* c30 hatchback. What else can they do to *destroy* us?
How much do you want to bet they put in a tricked up yellow Honda in place of the Porche? Think of the cool spoiler they could add! Wowzer. Go Summit, break the bank on the spoiler and rims on the Honda coupe.
You have a good point, Spank. Summit also cheaped out on the cast's wardrobe. Somehow Edward's expensive leather jacket ended up being a Member's Only jacket. WTH? Let's just hope they don't have Alice driving away in a yellow Kia Sorrento.
Hmm.. Or even worse, they'll have Jacob come to Volterra and carry Bella to Edward on his wolfy back. Then she can waffle back and forth between the two of them while being dragged to Aro. Oh, wait, I meant to complain about the car... Um, maybe they'll give Jacob a yellow racing stripe?