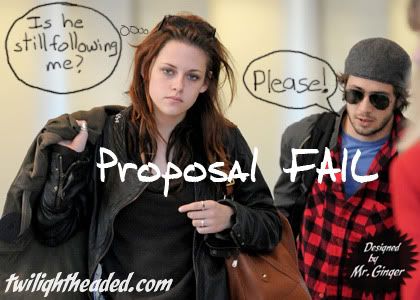 Word on Gossip Street is that Michael Arangano proposed to Kristen Stewart in Vancouver and she said "no." I'm wondering if he presented her with a ring or with a bong. Maybe she would've said yes if it was a bong.
Why would she want a diamond on her finger from Michael Orangutan when she gets to have that brilliant diamond in her every night?
Oh, crap!
Maybe this is all a really elaborate character study. She'll probably accept Oregano's proposal once he agrees to make her a vampire.
What does she see in that Michael Origami anyway?

This is NOT GOOD, it confirms what I've thought could not be possible - that "they" are doing it. NOOOOOOOOOOOO!!!!!!!!!
You see, Rob knows that you don't need to buy the cow when you can get the milk for free, and it's pretty obvious he is not lactose intolerant. *squirt*
Well, I see she doesn't exactly seem mind being milked, at least not in this analogy...
"doin' it, and doin' it, and doin' it well ... She represents Cali. and he was raised out in Britain."
I know that we've waffled back and forth about the pros and cons of a "Robsten" affair, but I don't really care if they're "doin' it." And, since she just turned 19, good for her for turning her boyfriend down. 19 is awfully young to get married, especially in Hollywood. It'd be best to keep the first divorce somewhere in the late 20's.
I agree, 19 is awfully young to get married if it's not to Robert Pattinson.