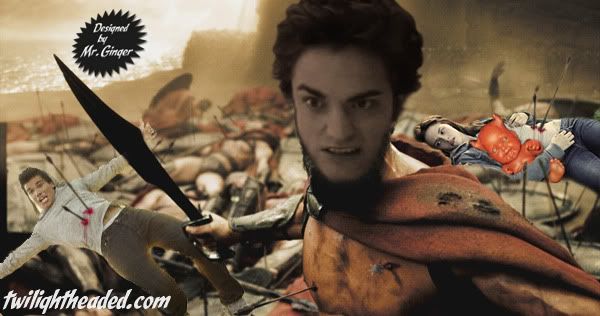 We've discussed before that the big non-showdown in Breaking Dawn was more of a big let-down. I like warm fuzzies as much as the next gal but I missed the drama of a real battle. In the fight between Good and Evil in literature good normally wins, but that win usually has a cost. So, who's life in the series would you have been willing to part with as part of that cost without hating Stephenie Meyer?
Rosalie.
Great question, I've given this a ton of thought (half a second): BELLA!
Leave it to you guys to take a serious discussion and taint it. *rolling my eyes* I'm going to go there and say this: I would've understood if either Bella or Edward died. Especially in the quest to save their child. Now, before you hate me, let me say that I will forever love SM with a deep passion because she let them live and let it be a happy ending. But there is something profound in the need to protect your children, and I could have lived with that conclusion.
If Edward died in the battle, it would've ruined the WHOLE series. Instead of forming a Twilight blog with my three best friends, I would've devoted all my free time to sending Stephenie Meyer hate mail. But since he lived, here I am. Proud member of The League.
Edward CAN NEVER DIE. I agree with you, Ginger. Bella or Renesmee I could easily live without. I also could have lived without all the high school kids and Mr. "Golden Onion dude."
Rosalie dying to protect Bella and/or Renesmee during the non-battle would have been a great opportunity for Stephenie Meyer to turn a character with no redeeming characteristics into a hero. Of course, I would not have shed a tear if Jacob had been "put to sleep" like any other worthless dog that has lived long enough.