Today's Junior League Member is eyaustin from
http://eyaustin.blogspot.com/
Superhero Name: Feathery Hair
Superpower: Ability to "will" her daydreams into reality
My friends tell me I have a slight case of OCD, because I like things neat & orderly, and I have a keen eye for detail. While there were MANY obvious issues with Twilight, I also noticed slight issues with continuity in things... For instance, there were several scenes in which there were small objects or costumes that were different from moment to moment. These are just the items I noticed the *ahem* first time through:

The first scene I noticed an issue with was during the "Procrastination Phase", when Bella is waiting to confront Edward, she is standing by her truck in her coat, and has on a grey shirt and a green sweater-vest.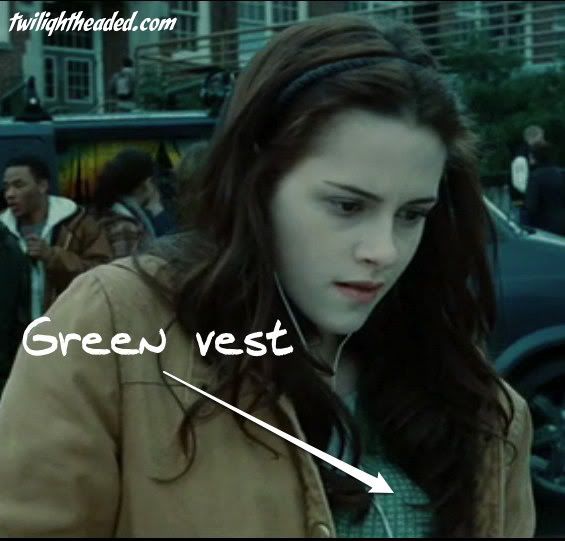 She then says "and the next day" and is wearing the same shirt/sweater-vest combo (just minus the jacket.)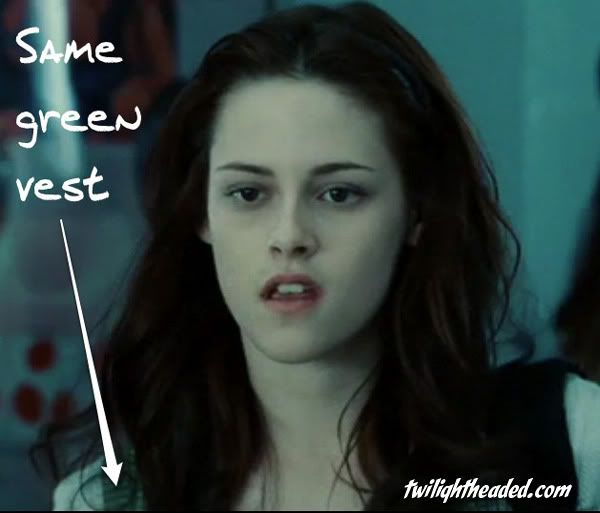 Also I noticed the scene where Bella is running from James. When she is getting ready to leave Charlie and she is in the kitchen, there is a water bottle on the counter.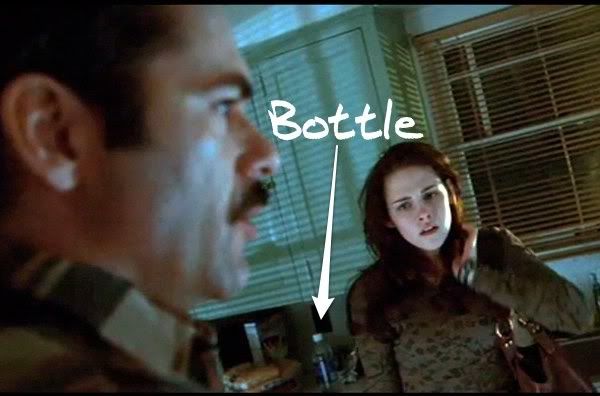 The shot cuts to Charlie, and when she turns back around and it is gone.
Did anyone else notice anything?? Or do I have some other form of OCD (Obsessive Cullen Disorder)?
Thanks for thinking about this one!
I love reading & commenting on your blog daily!
All signs point to the fact that the continuity person was on thorazine. It's either that or she was so dazzled by Rob that she couldn't concern herself with silly little details like wardrobe, props and, you know, HER JOB!
I cannot stand the inescapable issue with the friggin' breathing tubes up "piss ant's" nose during the last hospital scene. You would have to be on more than medication alone to have not noticed the fact that Bella's tubes moved all over her face AND that Edward changed positions in different shots (while supposedly sleeping). C'mon - puleeze, give the cougars a hurrah, and not insult us THAT badly?
I'm really impressed that ANYONE could focus on anything other than Rob during this movie. Instead of worrying about continuity I think we should be asking ourselves a much more important question: Why wasn't Edward in EVERY scene?
More to the point on continuity, let's examine why Edward and Bella go from "hello" to "I don't have the strength to stay away from you" in like 15 minutes. Because apparently we needed to take that precious screen time to develop the love affair between Eric romancing the worms while drinking compost tea at the Greenhouse.
You know, I never noticed the water bottle in the movie but I think I know what happened. While Edward was waiting in the truck for Bella, he realized she'd need something for her long road trip. So he whipped into the kitchen, took the water bottle, and whipped out... without them even noticing. You know how damn fast vampires can be. Yeah, I'm pretty sure that's what happened.
Hmm, maybe that's why Edward appeared in such an un-smooth, un-Edward-like manner. He threw himself against the door NOT to freak Bella (and me) out, but so he could reach to throw the water in her truck bed.
*snicker* Meadow, sigh. Why didn't they pick you to write the screenplay? I'd pick you over Lame-ass Rosenberg ANY day!
Ginger, that wasn't a euphemism for anything. We all know he doesn't throw any "water" into Bella's "truck bed" until Isle Esme. *grin*