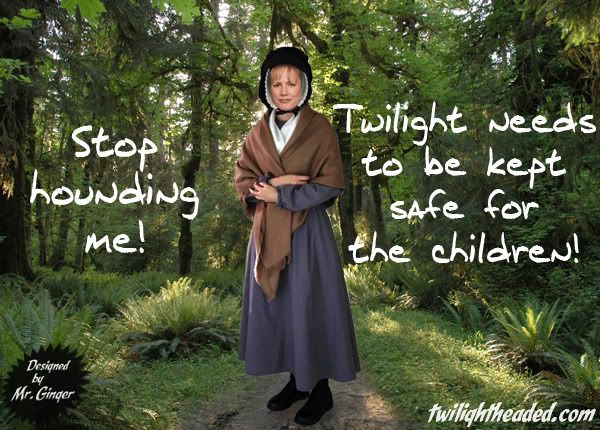 Our special correspondent Haleygolightly sent us this news item that dashes ice cold water on our hopes for Isle Esme and expresses her views on this potentially damaging situation. Haley, back to you:



Anonymous Friend Haley: Rosenberg says you can't have a Twilight movie with anything more adult than a PG-13 rating. She has yet to be hired to write the script for the fourth, Breaking Dawn, but she thinks it's safe to assume the book's more graphic violent scenes will be tailored to keep it accessible for Twilight's teen moviegoing audience."Our fans are in the PG age range, and I don't feel a big necessity to see violence, and to see gore," Rosenberg said. "I don't need to see that. This whole series is more about their relationship. It's not about the gore. I mean, there are some scary and special elements to it, but the series is really about relationships and coming of age and owning one's power."

So this basically means that if they hire Miss Rosenberg again for Breaking Dawn, we can say goodbye to any hopes of a less than fade-to-black experience. Not shocking, but quite disappointing. And if they think they have their hands full with gore and sex, wait 'til the casting call goes out for Jacob's love interest/half-breed spawn: 'Looking for toddler that is expressive, can pretend to read minds, grows at an alarming rate, and is comfortable around incredibly attractive British men. Must be better than the average child and 420 friendly.'
LAME!
Thanks for ruining my f*cking day!
*closes eyes, takes deep breaths and counts to 10 so as to not phase* So... what... we get Hannah Montana *breathe* meets Joe Jonas *take Xanax* in middle school *apply cold compress* where they kiss on the cheek *gag* and live happily ever after *$%#@$$@@$!!* <-- (PG version of what I REALLY think). Well, Miss PG-13, you're gonna see who the real audience of this franchise is if you DARE give us anything less than an NC-17 Isle Esme with an an unrated version on DVD (to be sold by *adult* retailers nationwide).






*rolling my eyes* What part of "vampire love story" screams family-friendly in the first place? Did she read some Disney version of Twilight where vampires get sustenance by eating spinach or something? I bet in her version of Isle Esme they'll consummate their relationship by holding hands on the beach and then the stork will bring Renesmee.
Yeah, BIG mistake if they think their bread and butter is PG'ers.Do you think we could start a fund to hire RP to play the role in some of the fanfic stuff we've been reading? Now THAT would be worth millions, and millions would pay to see it!
That sucks BALLS. Can we start a "Boycott Rosenberg" group? PG my ass! Let's hope they have an "unrated" version of the movie for us to watch later.
I volunteer to write the script instead. I'd have to work closely with Rob during the rewrite process. I mean, I respect him so much as an actor that I'd want to get his, um,
input.
Or, we can kidnap ask Rob for a private unrated performance of the honeymoon scene for The League. He can do it in four takes.