Our Junior League member this week is Gallifrey Reject from http://gallifreyreject.blogspot.com
Superpower: To discern truth from fiction and I can fly... in a TARDIS.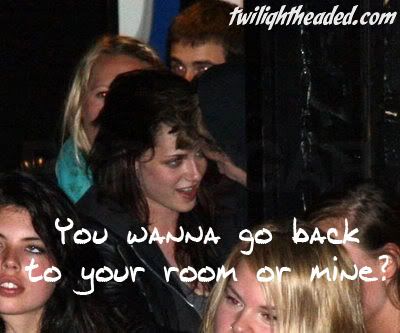 Something wicked this way comes as I say... If you look at both pics, it seems kind of normal until you look at the leg placement of the two and the faces. Why sit directly in front of someone when you have so much *ahem* space?? Kstew looks like she is going to pounce Rob in the second pic! Legs rubbing together..hmm.. I smell hook up! lol In the first pic, she stares directly at the camera and in some ways is saying that she is confirming rumors of a hook up! To add to the speculation there are the pics of them getting VERY close at the Sam Bradley concert in Vancouver. Uh oh..... Mind you word is that Summit wants to keep these shagalicious two separate for film purposes..But we all know the truth.. Or do we??






Seriously, Spider, DON'T disown me... They are SO doing it. And, truthfully, I want these two "crazy kids" to get together. They really look SO cute together and they seem to be so at ease and enjoy themselves. And they really look like they dig each other. Okay, let the attacks commence.







Nah, I want them to get together too. Maybe being with him would show Kristen now to be nice and sweet and stuff. ;)









I've said it before. I too want them together. Because then it makes the world of Twilight even more real to me. I LOVE when (non-married) co-stars get together. It's soooo romantic. *ducking from our angry readers*







I won't be surprised if many of our readers agree with you, Ginger. My jealousy is overwhelming, no matter who the skank is. If it ain't me, I hate her! ;)