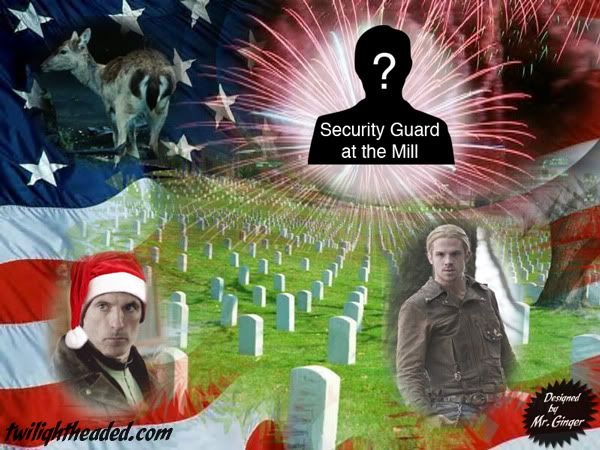 Today is Memorial Day and so The League wants to take this time to bow our heads and pay homage to those who are no longer with us in the Twi-World:



The Deer: Thank you for your sacrifice to provide nourishment for our dear Edward. You were so cute and minding your own business and then BAM... the chase was on and truth be told, I was kinda rootin' for you there in the beginning, but not really.
Renee's Cell Phone Charger: Why did you run way and leave? Was it the cell phone who asked you to run so that it would die and no longer be subjected to having to be in such close proximity to the fumes eminating from Renee's hairy armpits? Wherever you are, I hope you are charged up and ready for action. Be safe and don't go in the water.
The Security Guard at the Mill:
Well, we're not in Phoenix anymore and sadly, you'll never get to go. You gave them a good fight, though. Did you run track? For a second I really thought you might outrun them, but not really.
Buttcrack Santa: Ahh... the perinneal favorite. You're my boy, Butt. You're my boy! I feel a special kinship with you because I too like tiny little bottles. Perhaps, though, if you weren't drinking so many of them you would have more quickly realized that such a beautiful redhead didn't really want to play first mate with you. You will be missed at Christmastime, but not really.
James:
One word comes to mind when I think of you in the ballet studio with your silky smooth voice, exuding scalding hotness in those tight jeans in your bowlegged glory - bloodlust. That was what I felt when you were there and to be honest, I was a wee bit sad when Alice ripped your head off, but not really... because then I saw you in all your Camness at The Cheesecake Factory and James did not do you justice, my friend. So goodbye bad wig and hello sexy washboard abs. See you at the movies...
Well, Spank, since you took the liberty to bid farewell to all of the "obvious" lost ones from Twilight, I will pay homage to the less obvious but still important...

-the glass bowl that Rosalie crushed in a fit of rage in the kitchen;
-the apple that Edward obviously bruised when kicking it up into the air;
-the van that was dented in just for a movie effect;
-the contemporary home that was gutted to make perfect for filming in;
-the tree branches that were stripped from their tree to be in Mike Newton's butt crack;
-and last, but not least, "the worm" was not killed, but was exploited.
I'd like to pay homage to Jacob's dignity that was squashed when he tried to get Bella up from the bench and Edward told him to take a hike. Jacob, you were only trying to help poor disabled Bella and I'm sorry you were belittled and pushed aside by Edward. But not really.

Let's not forget the tree that had probably been growing hundreds of years in the Hoh Forest when Edward ripped it's branch off, just to prove to Bella that she couldn't fight him off. Sorry, wise old tree. You were just in the wrong place at the wrong time and were an innocent bystander. I'm sure Edward regretted it later and I hope by now your wound has healed.


I'd like to honor all of Emmett's lines that were left on the cutting room floor because, while pretty to look at, Kellan is just not a great actor. Emmett, it's not your fault your character was cast more for appearance than for acting abilities. We all still love you.

And lastly, I'd like to have a moment of silence for Jasper's bowels. Jasper, you were obviously in pain and I'm sorry Summit is so cheap that they wouldn't even buy you some Metamucil. That's just not cool, Summit.
I would like to take a moment to remember the amazing prom dress that Alice picked for Bella in the book. Apparently Alice just gave her something she bought at Macy*s for the purposes of the movie. And let's not forget Alice's short, spiky black hair. Casting seems to be very willing to take artistic liberties with this "saga."
Meadow, what are you talking about with artistic liberties for casting Twilight roles? Edi Gathegi (Laurent) looked exactly like a short haired, olive-toned Frenchman to me.
*snicker* Um, yeah, and I don't remember "Gaysian" as a description of Eric in the book, either.