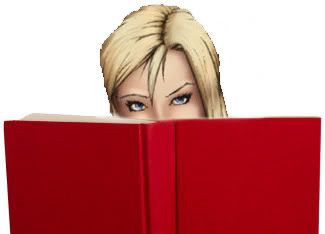 Okay, you all know how very anti Team Jacob we are here at the League. But we're also very pro Team Edward-Was-An-Immature-Ass-When-He-Left-Bella and pro Team Bella-Is-A-Whiny-Teenager-Without-A-Backbone-Sometimes. At least, I know I am. So that's why I'm so glad to recommend "The Road Less Traveled" by Daintress.
It's an alternate Breaking Dawn in which Edward never really "gets" Bella's breakdown over Jacob. Convinced that she still loves Jacob, Edward leaves. Again. But this time, Jacob is gone too and Bella has to be a big girl and grow up on her own. Sound depressing? Uh, yeah. BUT, I can't get over how much I like, no, LOVE this Bella. She grows up and becomes a woman. Now, it's time for fair warning: Some of this story is Bella and Jacob. Before you stone me, let me tell you that I think this portrayal of Jacob makes me almost WANT to be Team Jacob. Because he grows up too. Everyone, even Bella and Jacob, know that Bella is meant to be with Edward. There's no denying that. But being an adult means that you recognize different forms of love and allow yourself happiness where you can find it. It also means accepting that you CAN move on and be happy without *gasp* A MAN! *wink* (And, I promise, Edward shows up.)
I have to thank our reader Deconstructing Jen for sending me the link to this fic about a month ago. This story is COMPLETE and has a SEQUEL! See, so your friend Meadow is NOT leaving you hanging. Plus, it means no Renesmee! So go read!
I've read the Twilight series four times and I still don't really "get" Bella's breakdown over Jacob. I could hardly blame Edward if he did leave her for a second time over her ridiculous need to hold on to Jacob. And I kinda like Bella being left all on her own to grow the hell up. Sounds like a good fanfic to me!
Because it is a fictional novel and Edward is *dreamy* we give him a pass for being a doormat and regard him as the perfect man. We see Jacob as Edward's competition (as if) and so we vilify him. Bella is written in the first person and we project ourselves onto her and feel the emotions of first love and first loss and get so caught up in the love story that we are blinded to the truth and that, I feel, is this: If Bella, Edward and Jacob were *real people* we would be talking about how Bella's a self-absorbed bitch, Edward's a jellyfish and Jacob is a glutton for punishment.
Piss-ant!