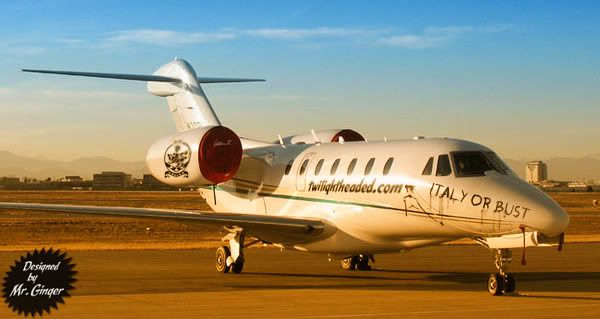 We're planning our trip to Italy. We have our private jet ready to go. All we need to do is find a way to get Spank on that international flight. You see, she doesn't care much for flying. (cough, understatement of the year). But we're going to help her get past it so we can go. Because we're not going without her. Now, Spank, snap out of it! *slap, slap*


I can SO do this, League. *pops Xanax* We just need to make sure the plane is equipped with Jasper to keep me relaxed, Emmett as my personal "security detail" and Dr. Cullen on board to regularly check my pulse, given as I am taking A LOT of Xanax intent on achieving my *goal* of joining the mile high club with Edward. If you can make ALL that happen, I'm going with you to the Motherland. *pops another Xanax*

Well aren't you the greedy one? What are we going to do with Alice and Esme while you're hogging the men? Shop the SkyMall?


No, you don't have to do that, Meadow. You guys can entertain the other passengers with The League's performance of New Moon using the script that Rob left under my pillow one of our faithful readers gifted us with.
Oh, Spank I love it. We can act it out with Edward - well, the kissing scenes anyway (I'll do some improv too!) I also think we can arrange your flight requirements. But do you mind sloppy seconds on Edward? Then we can both play the part of Bella.


Fourth! (saving the best for last) Why do I suddenly feel like bursting into a Vanessa Williams song?

Hmm... Well, while you guys are ironing out the details of your fictional flight "attendants" maybe I should go on ahead and just meet you in Italy. You know, to make Rob Pattinson my personal sex slave scope things out so we can share, I promise don't waste time.