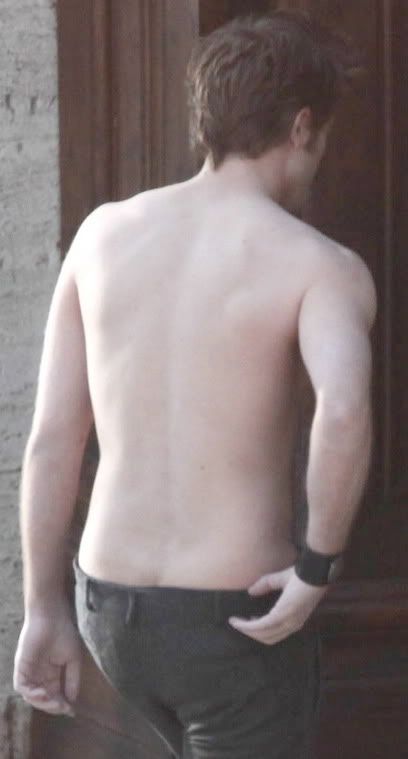 As devoted as we are here at Twilight-Headed to our beloved Buttcrack Santa, I'm thinking I might actually prefer Buttcrack Rob. *call me crazy*
Yes, much preferred ... and the bottle he's carrying isn't tiny or little either.
I wonder why they couldn't buy him pants that fit? Not that I'm complaining, but a nice pair of low-riding tight jeans wouldn't have been unwelcome. Especially during the frontal shots. *wink*
And did you see the front of the pants...?! He's got friggin' rabbit ears because they don't fit.
Boxers or briefs? I'm thinking neither!
I'd love to see him in briefs. Oh wait, I already have, in my dreams about a million freakin' times.
Rob needed loose fitting pants because he and Kristen didn't have a whole lot of time in the trailor between takes for him to be struggling with his wardrobe. That's also the reason he went commando.
But Kristen is wearing really tight jeans that look kinda hard to get out of, so that can't be it. You know, unless Rob was the only who needed to undress and.... Oooooohh.... Go Rob. *smirk*
Well she isn't eating the hot sausage from the craft service's table.