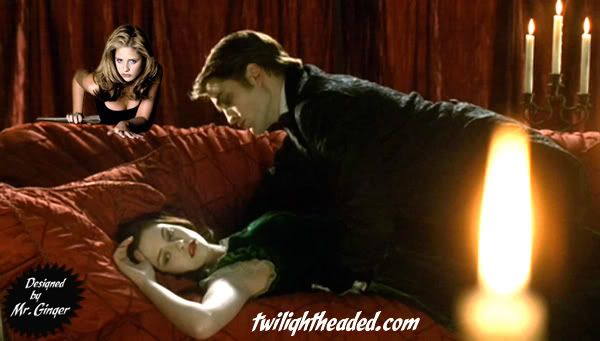 Stephenie Meyer took most of the vampire folklore from history and threw it out the window. That was pretty ballsy of her to do. If you could add an attribute from vampire folklore to Stephenie's vampires, what would it be? What would you change about them? What do you love about Stephenie's version?




I love that Stephenie's vampires can run and move so fast. I never really got into the "hard and smooth as marble" aspect to SM's vampires. I'd much rather make out with Spike (from Buffy) than with a marble statue. No matter how enticing she tried to make it sound, I just couldn't follow along. I mean, come on... I like it hard, but not THAT hard.
Mmm... Spike... My original VILF. But he doesn't hold a candle to Robward's VILFiness.
I'd have to disagree there, Meadow. I can't really choose between the two. So that means I'll just have to make sure I have enough, uh, love

stamina

for both of them.
I agree about the word "marble" I think a better word could have been used especially since she used the word marble all the time. How about "rock hard", but if she was tying to say he was smooth like marble, what about smooth silk. Or smooth like a finely sanded piece of wood (did I say wood?) I also could have gone for "cool" instead of "cold."
Cool and silky, but firm all over... hmmm
What I couldn't understand was constant reminder of his "cold, marble lips." If you have lips like stone, you can't pucker. Aside from how this obviously complicates any attempt at passionate snogging, how does he even manage to talk? Perhaps that's why Stephenie Meyer constantly described Edward as always being so damn chagrined.
... and while I'm on vampire pet peeves: VAMPIRES ARE NOT SQUIRRELS! They don't fly or climb trees.
I rather enjoyed the fact that she made them climb trees. Strapped around his waist is the best way to get to the top, of the tree that is.
*snicker* I thought it was impressive, I didn't mind the tree climbing. The "marble" analogy was hardest to believe when Bella waxed rhapsodic about how she could stay in his arms forever... Because I'm pretty sure I'd get tired of laying on top of my kitchen counter even IF it looked like Edward.
You probably wouldn't want to make out with your kitchen counter either.