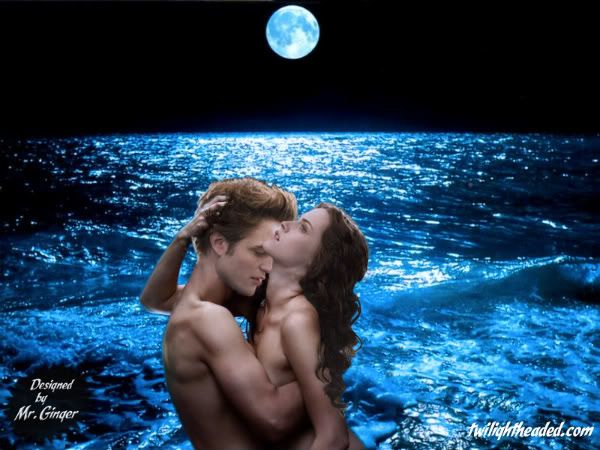 I think it's fair to say that we will be doing several Isle Esme posts as if it's a book alone. But one thing that a reader wrote on our "wet dreams" post got me thinking. She said seeing him in the water made her think of Isle Esme. And I cannot believe this never crossed my mind when reading the book.
For you younger readers this may make no sense. But for you more mature (sluts) women you'll catch my drift. It's more like a question: Have you ever done it in the water?
Doesn't work so well which makes me wonder if Stephenie Meyer ever has herself. It certainly isn't the most romantic way especially if you're a virgin. Or Perhaps they just had foreplay in the water before hitting the feathers?
Does doing it in your in-laws' shower while they're in the next room count as "

doing it in the water

"?
Um... yes, no, to get to the other side, 1.77245.
What the heck does that mean?
I think she's pleading the 5th.
And as for your question Spider, yes, I have done "it" in the water, and I'm pretty sure that if Edward were my partner I'd do "it" just about anywhere. However, I think that the water was probably just a "warm-up" and the marriage was consummated on the feather bed. Mmmm... *drifting off to a happy place*
We never will know that for sure, though, will we Stephenie? #$%$@
I was always so confused about the part they were in the water. Did they or didn't they? Drives me insane! I want to read it, dammit!
I'm still waiting for Stephenie to release an "adult" version of Breaking Dawn. You know, the kind that's covered in a brown sleeve and kept behind the bookstore counter to make sure only 21+ can buy it. But don't worry, our younger readers. The League would not keep you in the dark. We would buy plenty of extra copies to distribute to you. We're generous that way.
Is it wrong of me to call Stephenie Meyer a cocktease? Because she totally is. *disgruntled glare in the general direction of Arizona*
Perhaps she doesn't know or care of how much we want to read about EC's cockiness....
His cold, marble cockiness at that.



*** For a larger, more desktop-friendly size of the Isle Esme picture, Click Here. You're welcome. ;)