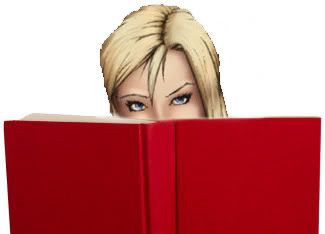 If I were to ask you what your BIGGEST pet peeve was about Twilight, what would you say? Wait, did you say Jacob? Okay, your SECOND biggest pet peeve then. Mine is the damn fade-to-black on the damn honeymoon. Dammit. Apparently KatieBelle over at Twilighted felt the same way and made it her personal mission to fill in every fade-to-black in Breaking Dawn. That's right. Every. Single. One. You wanna know what I'm feeling right now? Yeah, Warmth. *winks*Here's a link: http://twilighted.net/viewstory.php?sid=456



Amen, sister on the fade to black pet peeve! You know I'm always giving you a hard time about reading fan fiction and I've always refrained from reading it myself. Well, I have a little confession to make... Last week... I READ "WARMTH"!!!! Sigh. I've lost my fan fictioninity. And I liked it. And Mr. Ginger liked what I did to him after I read it. *wink*
**gasp** I'm shocked! And proud. I feel like our little Ginger is growing up. *wiping a tear* Now you and Bella have something in common. Edward gave it to both of you. *evil wink*
I can't help it. Stephenie Meyer left me no other choice with all her damn fade to blacks! So when I heard there was a fanfiction that filled in those details, I had to check it out.
So, then, Ginger... Which *ahem* detail was your favorite? Because I'm rather partial to the strawberries on the table myself.
Detail? I didn't notice any details. I pretty much just devoured the whole thing. Hmmm... I think I need to read it again. You know, for research.
Ginger, I'm shocked and speechless with you!
I just have one thing to say -- KatieBelle, thank you. I love you. Sincerely. You gave me what I have been missing in my life. The honeymoon of my dreams.
OMG! I just devoured "Warmth" without once blinking my eyes! It seemed very real and very S.M.-esque... I could totally see it happening that way! I love that I now have a vision of Isle Esme! I just had a bookgasm... book satisfaction that the story is now complete! Ahhh.... joy.