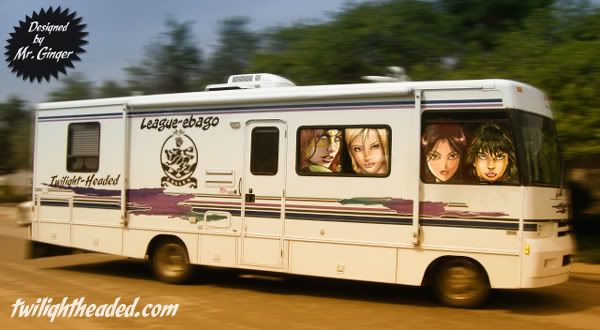 This is the true story of four super-cougars picked to rent a van, travel together and have their road trip taped to find out what happens when women ask Rob to bite and maybe even squeal... The Real World, Vancougar Style!
Now a cross country van trip, that's a movie in itself. The idea of a van trip to vancouver is just hysterical. But I think it should be an RV instead, with a kitchen and a microwave so we can entertain our boy once we capture him!
Okay, but who is going to be the resident b*tch? Do we have to fight and throw drinks at each other?
I win, hand's down.
Just please don't make me the one that gets kicked off the van... of course, it wouldn't be the first time, or the last.
I think you only get kicked off if you resort to physical violence. And while I don't consider you to be violent per se... you ARE Sicilian and all bets are off when Rob is involved.
I'll make Rob an offer he can't refuse.
Why does there have to be just ONE resident bitch? And more importantly, if we're going to Vancouver, why are we worried about titles like "Resident Bitch"? Shouldn't we be mulling over more important titles like "Resident Could-Out-Drink-Rob-And-Lure-Him-Back-To-Our-Van"? I'm going to go start honing my skills so I can be the Resident Most-Skilled-In-Rope-Tying-So-It-Only-Hurts-In-The-Good-Way.
Do you really think anyone can out-drink Rob?
Duh, hello? You all know I'm the lush of the League!
Ok Spider, I've got a plan. You out-drink him. Get him good and drunk. And then I'll take care of him and his impaired judgment while you sleep it off. *wink*
This just turned into Cougars Gone Wild... ;)