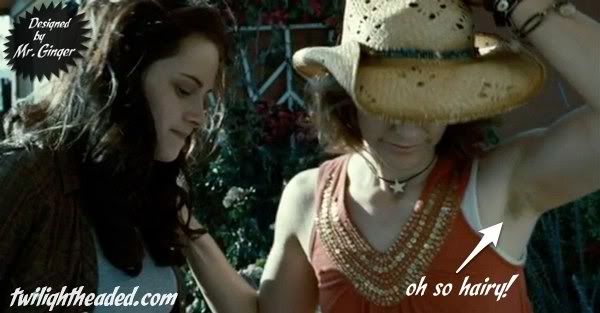 This week's Junior League Member is: Jinger
HumanSuperpower- Being a prickler about the prickly.
Okay, League! I have a topic for you. As I eagerly tore through the shiny film off my new Twilight DVD with sweaty hands and shoved it into the player I was completely ECSTATIC. To be able to pause and rewind Rob say "naughty" and of course "saucy" ::sigh:: Anyways, in the opening scene where Bella is at her home in Arizona and is saying the last goodbyes to her "hairbrained" mother and Phil, I came upon a"hair raising" development. Hold up! PAUSE IT! When cowboy hat clad madre lifts up her elbow into the air, check it out. Major armpit hair alert! I mean, c'mon. I know the budget wasn't the biggest but I'm sure they would've provided a pink BIC to tame that lion's mane under her arm. Thanks girls. Keep up the good work!
Ok Jinger, (GREAT name, by the way!) I have to admit... when I first saw your Junior League submission, I thought you were crazy. Because I've seen the Twilight movie a few times by now and I've NEVER noticed that. So I went to the movie and HOT DAMN, you're right! (I just sounded a little rednecky there for a minute... sorry ladies) Uh, what's that about? I get that Bella's mom is a little on the hippie side, but was that really necessary to show us the underarm pubes?
Oh my God I'm having a Paula Cole flashback. Someone save me from 1997.
Sarah, the role called for you to be hairbrained, not hairy.
I didn't want to be reminded about that, but I did also notice it in the movie. Just another reason that Renee does NOT need a comeback in New Moon!

Hopefully Renee is still trying to figure out how to text message long enough that she doesn't make any more appearances in the series!
No wonder Bella didn't mind moving to Forks that much. It's too cold for tank tops.
Meadow, you crack me up. How true though... She'd rather live with cold wet things than warm smelly things, like her mom!


I don't think Bella is too concerned with hairy, smelly things given her propensity for hanging out with dogs.
Well, that brings up an interesting question and point. Did the Cullens shower? Which makes it an even more brilliant casting call to cast RP as Edward because rumor has it that he is not fond of showering/hair washing. So... back to my question; do the Cullens shower?



I think I've read parts that talk about showering. But then again, it was probably in a smutty fanfic and not in Twilight. But it just makes me go to that place in my mind where I keep Darkward (Wetward, Bedward, Robward, whoever) locked up.