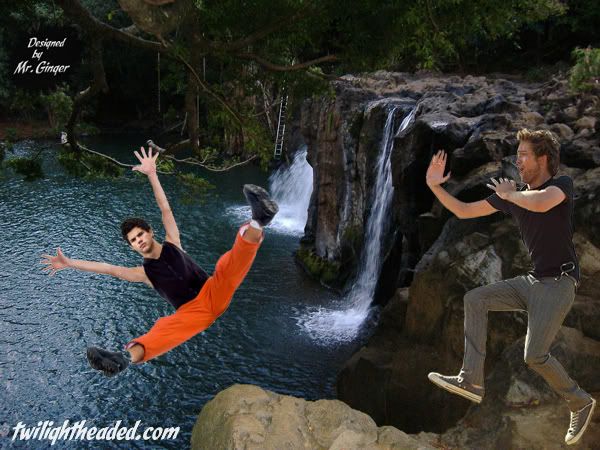 This is something that people have discussed over and over again. But I think since the filming has finally begun it's worth another go round.
What drove millions of fans to Hot Topic to buy; lunchboxes, band-aids,t-shirts, key chains, canvas bags, cullen crest pins, stickers, and more?
One word... Edward. As much as we all LOVE the Cullens, let's face it Edward Cullen is the franchise. Without him it's a bag of shit-dust with bad special effects.
So, how the "F" are they going to make this movie and keep him in it enough to draw the crowds. I, for one saw the movie (in the theatre thirteen times - hangs head in shame.) I will only see New Moon one time if the Edward factor is not there. Until DVD of course.
If they're smart enough, (and I'm praying daily) they've weaved him into the story enough to get our fix. What are some possible scenarios to keep him in it enough for us twi-hards to get our groove on? EC style!
I am conflicted about this -- for the STORY I think it is important that Edward really not be in the movie *duck* but I know that I will literally phase myself if I have to sit through almost 2 hours of Sharkboy and The Bong Girl. So I think the PLAN (you know from my unnamed sources on gossip sites) is that they are going to "show" Edward admonishing Bella when she does something risky or dangerous, rather than just hearing his voice. Also given the fact that the Edward/Bella relationship went from 0 to 60 in 30 minutes I am figuring they can do the same in New Moon -- Edward leaves, Bella cries, (yadda yadda yadda) so sorry, so sad Jacob, Spank is all happy again.
Or, perhaps they'll show what he's doing in South America?
This is another area where I'm torn. Part of me wants them to stay as true to the book as possible, after all we'll only appreciate the REALITY of Edward in Volterra if we've been denied him up to that point. Given the propensity to fast-forward I agree with Spank that the Jacob/Bella part can be handled relatively quickly.
As for Edward in South America, I think they need to include the outtake that Stephenie Meyer has posted on her site describing Rosalie's phone call to Edward. Before Twilight (The Movie) came out I was holding on to the hope that Stephenie was going to finish Midnight Sun and maybe even continue on. That hope has (long) since faded, but I still can't get on board with them just making up what Edward was doing. I think some of the suspense during their reunion was finding out exactly how miserable Edward really was. I think as an audience we need to feel Bella's insecurity.
Normally I don't like when movies stray too far from the book versions, but in this case I'll make an exception.
I say, they should just skip the whole Jacob part. Or he can have a couple cameos like he did in Twilight. They can film the New Moon story Midnight Sun style. Instead of watching Bella become catatonic, becoming bff's with Jacob, etc. we can just follow Edward's journey to South America, living in the attic, then getting the call from Rosalie and going to Italy.
Because otherwise, when they get to chapter 3 in the movie and Edward leaves
us
Bella... I'm gonna need you guys to hold me.
I'll bring my portable DVD player to the screening. That way we can watch the Vampire Kiss montage on repeat while we're waiting out the Jacob nonsense.

Meadow, you're brilliant! I knew there was a good reason why we were best friends!